Page Menu
Ben's Italian Sauce (gravy)
(Makes enough for 10-12 servings; to serve for 5-6... halve the ingredients)
Ingredients:
Cold Pressed Virgin Olive Oil to cover bottom of saucepan
1 medium sized onion
1½ tablespoons of chopped garlic
1 rounded tablespoon of fennel seeds
7- 10 shakes of Tabasco sauce
2 cans of ground peeled Italian tomatoes (28 oz)
4 cans of tomato paste (6 oz)
1 handful of chopped parsley
1 glass of Red wine
4-5 cans of water (Use 6 oz cans from tomato paste)
Whole wheat pasta

Putting it together:
At the bottom of a large saucepan add enough cold pressed virgin olive oil to cover the bottom of the pan

Add one medium sized diced onion

Add 1½ heaping tablespoons of diced garlic (You can buy diced garlic by the jar in the supermarket)

Add a round tablespoon of fennel seeds (This is one ingredient to take the place of hot Italian sausage; the other is Tabasco sauce which you will use later on) This adds flavor to the gravy (sauce)

Sauté the ingredients in the pan for about 5 to 6 minutes

Once everything is sautéed add two large cans (28 ounces each) of ground peeled tomatoes (I like Pastene's "Kitchen Ready" tomatoes)

Next, add four cans of Italian tomato paste (6 ounces each)

Add one can of water for each can of tomato paste used, plus an additional can if gravy is too thick

Stir ingredients

Add one glass of Italian red wine (most dry red wines will do). This will add flavor without the alcohol

Add one handful of chopped parsley for both color and flavor

Now add 7- 10 shakes of Tabasco sauce (More will make it too spicy)

Let simmer, stirring constantly for about an hour

Taste using Italian bread to see how you're doing (This is my favorite part)!

Cook whole wheat pasta (macaroni) until al dente (slightly hard; not mushy) and serve


Italian Meat Balls (Veggie Balls)*
(Makes ten good sized meat balls)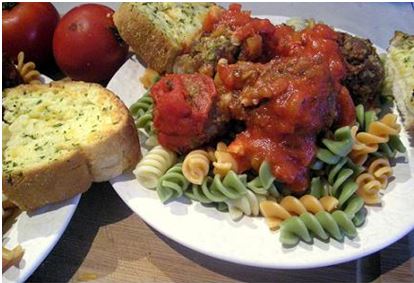 Ingredients:
1 package of Yves "Veggie Ground Round" (12 ounces) or Gimme Lean Beef style
2 tablespoons of chopped garlic
1 small onion (finely diced)
1/2 of 8 oz carton of "Better'n Eggs" or "Egg Beaters"
1 handful of "Veggie Shreds" Cheese alternative (Parmesan Mozzarella and Romano) (1/2 cup)
1 handful of Italian breadcrumbs (1/2 cup)
1 handful of chopped parsley (1/2 cup)
1 rounded tablespoon of black pepper
Can of Olive Oil spray
*(In Place of Veggie Ground you may prefer to use ground turkey meat OR buffalo meat)

Putting it together:
In a small mixing bowl add Ground Round, garlic, onion, parsley, egg substitute, veggie shreds, black pepper, and breadcrumbs together

Knead all of the ingredients together, mixing thoroughly

Roll into medium to small "meat" balls

Place on a cooking sheet that has been spayed with Olive Oil, so they don't stick, making sure that "meat" balls don't touch each other

Cook for 40 minutes at 375 degrees until firm and crusted

Serve on top of pasta covered with sauce
Bon Appetit!
Per 461g serving, with pasta: 382 Calories, 4.5g fat, 1.1g sat fat, 66g carbohydrate, 25g protein, 9g fiber, 173mg calcium, 7.2mg iron, 33 mg vitamin C