Page Menu
Triple Berry Oatmeal Squares
Ingredients:
⅔ cup roughly chopped Almonds
2 cups Old-fashioned Oats
2 teaspoons Saigon Cinnamon
1 teaspoon Baking Powder
¼ teaspoon unsweetened Apple Pie Spice
1 ¾ cups unsweetened Vanilla Almond Milk
⅓ cup local Honey
2 large Eggs (can also use flax eggs)
3 tablespoons melted Coconut oil, divided
2 teaspoons Pure Natural Vanilla Extract
12 ounces of Frozen Organic Strawberries, Raspberries, and Blueberries
A pinch of Himalayan Sea Salt

Instructions
1. Preheat oven to 375°F. Grease a square baking pan (such as a 9-in dish).
2. After oven has preheated, pour the almonds on a baking sheet and toast for approximately 3-5 minutes.
3. Combine oats, toasted almonds, cinnamon, baking powder, apple pie spice, and salt in a large mixing bowl.
4. In another mixing bowl, whisk almond milk, honey, eggs, coconut oil, and vanilla until combined.
5. Assemble frozen berries evenly over the bottom of the baking dish. Leave about ½ cup of the frozen berries for topping the baked oatmeal.
6. Cover the berries with the dry ingredient mixture, then pour the wet ingredient mixture over the oats. Jiggle the baking dish to make sure the wet ingredients travel down through the oats. Pat down any remaining dry oats that might be on the top.
7. Place the remaining frozen berries (about ½ cup) on the top of the batter.
8. Bake approximately 45-50 minutes, or until the oatmeal sets and has a golden color. Remove the baked oatmeal and let it cool for a few minutes.
Optional toppings: unsweetened plain yogurt, a dash of cinnamon, and raw honey.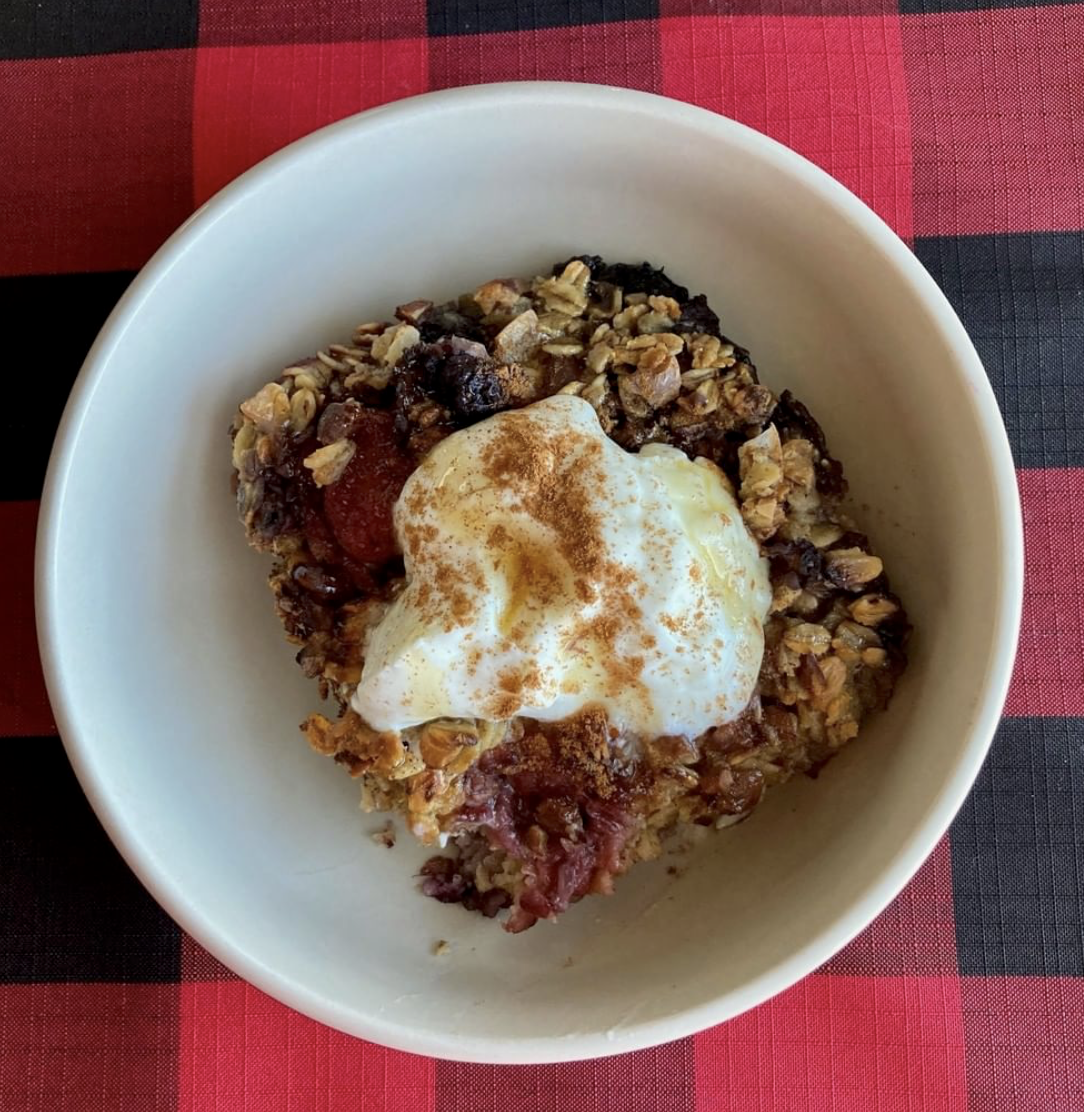 Recipe Adapted by Anna Madziar from https://cookieandkate.com/baked-oatmeal-recipe/
IBD-AID™ Phase III. For Phase II, May need to puree berries and strain out seeds (as tolerated)