Page Menu
Homemade Ketchup
Prep Time: 5 minutes Cook Time: 25 minutes Makes: 2 cups
Ingredients:
1 small onion, diced
2 cloves garlic, minced
2 cups passata (pureed tomatoes, no sugar added)
¼ cup tomato paste (no sugar added)
3 tablespoons apple cider vinegar
¼ teaspoon ground allspice
½ teaspoon cinnamon
¼ teaspoon ground ginger
¼ teaspoon ground turmeric
½ teaspoon chili powder
Salt and pepper to taste
Directions:
Sweat onions in medium saucepan over medium heat until soft. Add garlic. Stir for ~30 seconds. Add remaining ingredients and simmer over low heat for 25 minutes.
Blend until smooth. Store in refrigerator for 1-week or freeze up to 3 months.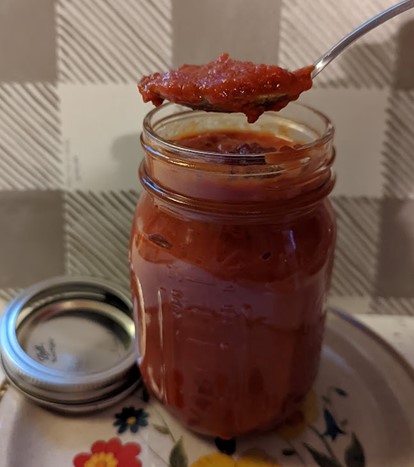 Recipe & Image Credit: Rene Maserati