Page Menu
Chicken Recipe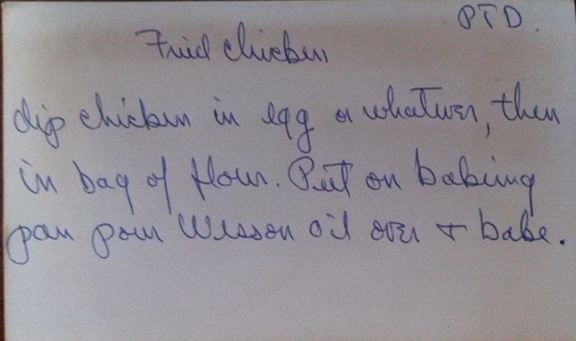 by Judy Palken, MNS, RD, LDN
Does this recipe take you back, as it does me? I think we all have favorite old recipes from our mother, or a dear aunt or friend, that are hand-scrawled - not terribly specific about amounts and instructions… they didn't need to be, because it was so obvious what to do. In this case, coat the chicken and bake it! This recipe came from the cherished collection of one of the Microbiome staff, and even though it isn't mine, I look at it and can almost taste how good it is!
Maybe you have made some version of this, coating the chicken with flour, or corn flakes, or Ritz cracker crumbs… So now the question - how can we make this, but better for the gut? We know we can ALWAYS do better than white flour, and a quick fix is to change the flour to whole wheat. A big improvement! But what if you are sensitive to wheat, for reasons of gluten, or wheat allergy. Or, if you have been reading about the good and bad bacteria in the human GI tract, you know it's a balance, and for many people it's a struggle to keep the "bad guys" in check. It seems that the less friendly bacteria like to feed upon wheat, and this is problematic for lots of people with either Inflammatory Bowel Disease (Crohn's Disease, Ulcerative Colitis) or Irritable Bowel Syndrome. So what to do with a great old recipe like this?
Try using ground flax seed! Flax seeds are a fantastic food, being a good source of omega-3 fatty acids, and having phyto- (plant) chemicals called lignans, which may protect against certain cancers. They have great fiber, and are in fact a prebiotic - that is, they feed the good bacteria in the gut.
Oh, and a word about the oil - please use cold-pressed canola oil or extra virgin olive oil. Good fats are an important part of a healthy diet.
Flaxseed And Herb-Crusted Chicken
The crisp flaxseed crust keeps the chicken wonderfully moist inside. You can use golden or brown flaxseed.
Ingredients:
Canola oil (cold-pressed)

¼ cup ground golden flaxseed

2 tablespoons dried onion flakes

1/2 teaspoon each dried dill, dried oregano, and garlic powder

1/8 teaspoon each salt and pepper

2 tablespoons egg substitute or 1 egg, beaten

1 pound boneless, skinless chicken breasts
Directions:
Preheat oven to 400 degrees. Line a baking sheet with foil and place wire rack on top of it. Lightly coat the rack with canola oil.

In a shallow bowl combine flaxseed, onion flakes, dill, oregano, garlic powder, salt, and pepper. Place egg substitute or beaten egg in a separate bowl.

Dip a chicken breast into egg, allow excess to drip off, and press each side into flaxseed mixture to coat. Place on wire rack on prepared baking sheet. Repeat with each chicken breast.

Bake for 20 minutes or until a thermometer inserted in thickest part of chicken reads 160 degrees.
Per serving: 203 calories, 5 g fat, 6 g total carbohydrate, 4 g dietary fiber, 37 g protein
TIP: If you don't have a wire rack, you can cook the chicken on a baking sheet alone.
Adapted from http://triathlon.competitor.com/2014/01/nutrition/racing-weight-recipe-flaxseed-and-herb-crusted-chicken_92269
Healthy Eating to All!