Page Menu
Pass the Avocados, Please!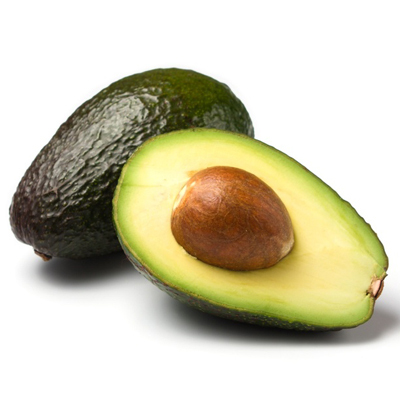 by Judy Palken, MNS, RD, LDN
Simple, Delicious Guacamole
Makes about 2 cups
Ingredients:
2 avocados

1 medium onion, finely chopped

1 clove garlic, chopped

1 tomato, chopped

1/2 bunch cilantro, chopped

2 Tbsp lime juice (fresh is best)

salt and pepper to taste
Directions:
Peel and mash the avocados.

Stir in onion, garlic, tomato, cilantro, and lime juice.

Season with additional lime juice if desired, and salt and pepper can be added if desired.

Chill for an hour.
The avocado is a super-nutritious, high-fat fruit. The fat is of the healthful variety - monounsaturated fat, the same type found in olive oil, which helps to protect against heart disease by increasing the good HDL-cholesterol.
The fat also helps us to feel full after we eat. This can help with weight control efforts - fat helps us to feel satisfied!
Avocados are great for getting many nutrients that we tend to come up short on:
Fiber - for digestive health, and to help control blood sugar.

Potassium - for muscle, nerve, and blood pressure function.

Folate - a B vitamin, important during pregnancy, and for cell repair at all times.
Avocados also contain:
Carotenoids - pigments that have disease-fighting properties, and are absorbed easily in the gut with the help of the fat in the avocado.

Lutein - a carotenoid that is good for our eyes!

Beta-sitosterol - a plant sterol that has been found to lower bad LDL blood cholesterol levels.

Glutathione - an antioxidant; helps to rid the body of free radicals that can lead to the development of heart disease and certain cancers.
It is a great idea to enjoy avocado daily, but as with most foods, pay attention to portion size, and to how it makes you feel. The recommended serving size is about 1/5 of a regular avocado.
Choosing your avocado:
If the avocado yields to gentle pressure, it is ripe and ready to serve.

If it does not yield to pressure, it will probably be ready in a couple of days.

Store unripe avocados in a fruit bowl on your table or counter. Enjoy your beautiful green/black still life! When they turn dark purple or black, and yield to gentle pressure, they're ready to eat. To speed up the ripening, you can put them into a paper bag with an apple or banana.
To cut and serve:
Wash avocado, and cut it lengthwise around the seed.

Twist the halves in opposite directions, and they will separate.

You can work the seed out with a spoon.

Slide a spoon between the peel and the fruit, and scoop it away.

If you have remaining avocado - mash, add about 1/2 teaspoon of lemon or lime juice to prevent discoloration, and lay plastic wrap directly on the surface (or another cover, such as foil or wax paper) and store, covered, in the refrigerator. This will keep for up to two days.
Besides guacamole, what else can you do with your avocado?
Enjoy it sliced on salad - try it with romaine, red onion, cherry tomatoes, and a drizzle of extra virgin olive oil and balsamic vinegar.

Slide it into your favorite sandwich - it goes great with turkey, tuna, cheese, veggies!

Spread avocado on bread or toast as a healthier alternative to butter, soft spread, or mayonnaise.

Add a bit to a smoothie - you will enhance the absorption of all those great vitamins in your smoothie with the fat from the avocado!

Finally, experiment with using avocado in baking - replace some of the fat in your muffins, brownies, cakes, etc. with mashed avocado. Substitute one-to-one for butter; if subbing avocado for oil, you may need to add a bit of another liquid to thin out the batter.
Here is a baking recipe to get you started:
Cocoa Avocado Muffins
12 muffins
Ingredients:
1 ripe large avocado

⅓ cup sugar

2 eggs

1 tsp pure vanilla extract

¼ cup chia seeds

1 cup white whole wheat flour

½ cup cocoa powder

½ tsp baking soda

½ tsp baking powder

½ tsp kosher salt

½ cup low fat milk (soy or almond milk would be fine)
Directions:
Preheat oven to 350 and grease or line muffin tins.

Beat avocado and sugar in a large bowl until smooth. Its. It's okay if there are still a few pieces of avocado.

Add eggs and vanilla, mixing well.

Add in the chia seeds and mix. Then set aside.

Mix the flour, cocoa powder, baking soda, baking powder, and salt.

Alternate adding dry ingredients and milk until it is well-mixed. Do not over mix, but try to mash up any remaining bits of avocado.

The batter should be fairly thick. Fill the muffin cups about 2/3 full.

Bake for 18-20 minutes or until set, a bit risen, and a toothpick will come out with a few moist crumbs.

Allow muffins to cool. Store in a covered container on the counter, or freeze.
Adapted from http://www.flyingthyme.com/chocolate-avocado-muffins/