Page Menu
Pumpkin Pie Granola Bars
Prep Time: 20 minutes Bake Time: 30-35 minutes Makes: 12 granola bars
Dry ingredients:
3 cups gluten free rolled oats
1 tablespoon pumpkin pie spice
1 tablespoon cinnamon
1 teaspoon nutmeg
1 tablespoon ground flaxseed
½ teaspoon salt
Wet ingredients:
½ cup pumpkin puree (no added sugars if using canned)
¼ cup applesauce (or pear sauce)
½ cup honey, raw local is best
1 teaspoon vanilla
Optional: ½ cup chopped chocolate coconut oil candies (optional; see recipe), ½ cup pumpkin seeds (optional), ¼ cup dried cranberries (unsweetened, or raisins, dried apricots, dried cherries, etc., optional)
Directions:
Preheat oven to 350oF Lightly oil a brownie pan. Set aside
In a large mixing bowl combine dry ingredients and stir.
In a medium bowl, combine wet ingredients. Stir and pour over oat mixture.
Stir in chocolate, pumpkin seeds, dried cranberries, etc. Press mixture into brownie pan. Bake for 30-35 minutes.
Recipe adapted by Rene Maserati from https://www.twopeasandtheirpod.com/pumpkin-chocolate-chip-granola-bars/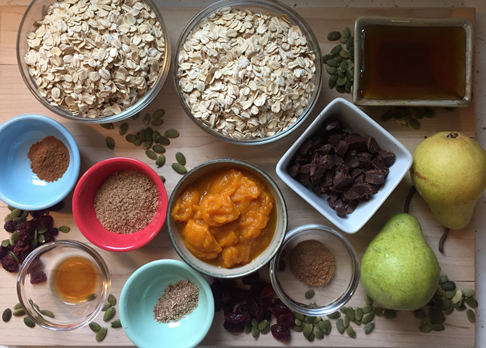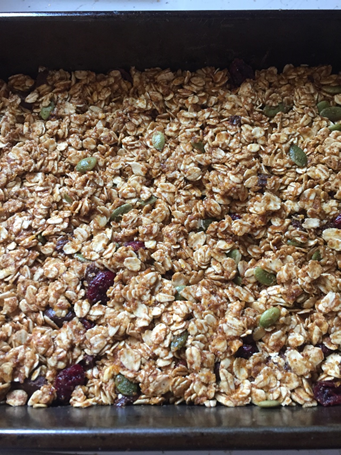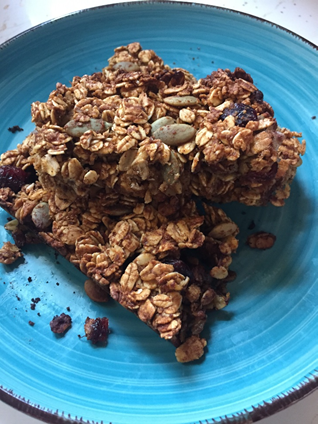 Image Credit: Rene Maserati
IBD-AID Phase III (as tolerated)