Page Menu
Creamy Cauliflower Parmesan Soup
Prep Time: 10 minutes Cook Time: 30-35 minutes Makes: 6-8 servings
1 head cauliflower, chopped
½ cup fresh grated parmesan cheese
1. Add leek and onion to large stock pot with 2-3 tablespoons water. Sweat the onions until soft, adding more water if needed. Add garlic and sage. Cook for ~30 seconds or until fragrant.
2. Add cauliflower and stir to combine. Add broth and parmesan rind, if using. Bring to a boil, reduce heat and simmer, covered for 20-25 minutes.
3. Make cashew cream- combine 1 cup raw cashews that have been soaked for 2-6 hours, drained, and rinsed, with ½ cup water in a high-speed blender and blend until smooth. Set aside.
4. Add cashew cream and grated parmesan to soup and cook for 5 minutes longer. Blend with a stick blender until smooth. It's okay if there are a few cauliflower pieces that didn't blend down.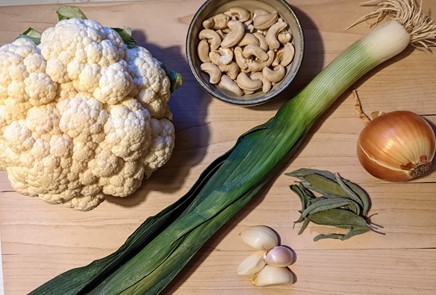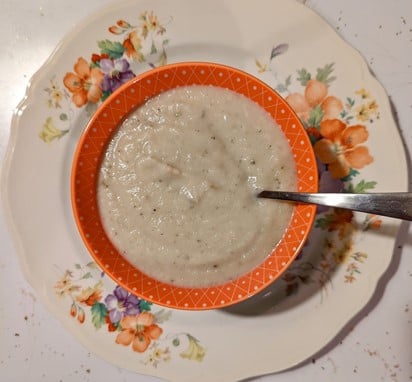 IBD-AID Phases II and III (as tolerated).
Recipe adapted by Rene Maserati from https://www.italianfoodforever.com/2021/12/cauliflower-soup-with-brown-butter-crispy-sage/
Image Credit: Rene Maserati