Page Menu
Smoothie How-tos
by Judy Palken, MNS, RD, LDN
Two Ingredient Honeydew Smoothie
Ingredients

:
8 fl oz coconut water


About 1 & 1/2 cup frozen honeydew melon cubes
Directions:
Add to blender, the coconut water first.

Blend to a creamy consistency.
It really is that simple! I stumbled into this smoothie after I had frozen some cubes of honeydew melon that we didn't eat up after cutting and serving our melon. I was completely amazed at how creamy and delicious these two simple ingredients are when blended together. And nutritious! All melons are full of nutrients, and coconut water is a great source of potassium, rivaling bananas, and has other electrolytes as well.
Let's talk about smoothies… maybe you've heard that certain ingredients, like flax seed, hemp seed, nuts, and berries are SO good for you, but you want to know how to actually get them in consistently. Maybe at the end of each day, you find yourself wishing you had loaded up on lots of great foods, for your health, vitality, and appearance.
Smoothies are a fantastic way to get in a lot of wonderful foods, starting with delicious, nutrient-packed fruit. You can start your day with a cold, refreshing smoothie, and have another as part of lunch, or a great mid-afternoon snack, or dessert!
You have probably seen the neon-colored slushies and ices sold at malls and convenience stores - and to the chagrin of parents all over, at movie theaters, fairs, and other places where the direct appeal is to children. These concoctions are mainly a HUGE load of sugar, which is now known to promote inflammation and increase our fat stores, leading to obesity and diabetes. Leave these behind, permanently, even for the kids! You can do so much better with fresh or frozen fruit, and by adding other healthful ingredients, you can make your smoothie work for you as you declare "I cannot believe how delicious this is!"
Below are three more easy smoothie recipes, and some tips for making the most of your smoothies. These recipes can be modified to suit your taste - make them your own!
Cocoa Banana Smoothie
The fruit smoothie version of a creamy chocolate shake!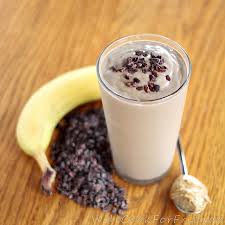 2 servings.
Ingredients

:
1 cup organic, unsweetened soy milk, or other unsweetened milk of your choice

2 sliced, frozen bananas

2 Tbsp unsweetened cocoa powder

2 Tbsp oat bran
Directions:
Combine all ingredients in blender. Blend to a creamy, well-mixed consistency.
Note… the banana slices should be frozen at least a day ahead of time. Frozen banana slices are hard, so be patient with your blender! You might have to stop it a couple of times and shift the ingredients around. The amount of the milk or banana can be adjusted - use more banana, or less milk, for a thicker, more ice cream-like smoothie. Adjust the amount of oat bran and cocoa powder to your taste… remember, the more oat bran, the more very beneficial soluble fiber.
Frozen Fruit Smoothie for One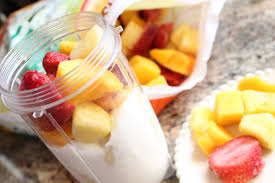 Ingredients

:
6 fl oz coconut water

1/2 cup frozen blueberries

about 8 frozen grapes

about 8 frozen cherries

3 Tbsp of plain, nonfat Greek yogurt

2 Tbsp ground flax seed
Directions:
Mix all in blender to achieve a somewhat smooth, but still icy consistency. If you like an even icier smoothie, add 2-3 ice cubes mid-way through the blending cycle.

Other frozen fruits can be added or substituted – orange or clementine segments, watermelon, strawberries, raspberries, mango, peaches, whatever you have on hand and enjoy!



Cocoa Blueberry Smoothie

Ingredients

:
3/4 cup unsweetened, organic soy milk, or other unsweetened milk of your choice

1/2 cup frozen, unsweetened blueberries

1 Tbsp pure cocoa powder

1 Tbsp oat bran
Directions:
Mix all in a blender to desired consistency. Vary amounts of soy milk or blueberries to have your smoothie be more or less thick.
Tips for Making Nourishing, Delicious Smoothies
Use frozen fruit - either cut up and freeze your own fresh fruit, or buy frozen fruit. Make sure any frozen fruit you buy is just fruit, and with no added sugar.

Nix the sugary ingredients. For yogurt, buy it plain and unsweetened - sugar-sweetened yogurt has too much added sugar. Even fruit juice can add a hefty dose of sugar. Less sugary options are coconut water, unsweetened organic soy milk, unsweetened almond milk, and plain skim or 1% fat milk. You can even experiment with some more unusual plant milks, such as hemp, flax, or oat milk. Adding sugary ingredients like ice cream, sherbet, and sorbet is unnecessary!

Watch your portion size! Even if your smoothie contains super-healthful ingredients, if it is way too big (think 16, 20 fl oz and up) the calories will add up to be too much. That is, unless you are using a lot of ice, which is a great trick to make it frosty and curb the calories!

Don't over-blend - leave a bit of fruity/icy texture to your smoothie

Always be thinking - what can I add to my smoothie to make it more nutritious?
Here are some ideas, and you might think of others -
Any fresh or frozen, unsweetened frui


… including berries, even cranberries
Plain, nonfat or low fat yogurt, Greek or regular

Ground flax seed

Chia seed

Hemp seed

Unsalted nuts - walnuts, pecans, peanuts, etc.

Peanut butter, almond butter - without hydrogenated oils

Sunflower seeds

Sesame seeds

Avocado

Pure cocoa powder

Nonfat dry milk

Wheat germ

Wheat bran

Oat bran

Rice bran

Uncooked oats

Vegetables - try kale, spinach, cucumber, carrot, bell pepper

Ginger - fresh or dried

Herbs and spices, such as turmeric, cinnamon, cloves

Green or black tea

ofu

Keep your blender out on your counter! If you put it away in a cabinet, you will find it to be too difficult to take out to make your nourishing smoothies.

Smoothies are meant to be enjoyed right away, right after blending. However… if you do have some leftover smoothie, pour it into a container, and freeze. It will be a delicious frozen treat for later!