Page Menu
Apple Pie Oatmeal
Ingredients:
1 to 1.5 cups unsweetened almond milk (or non-dairy milk of choice), as needed
1/2 cup Old Fashioned Rolled Oats or 1/4 cup steel-cut oats
1/2 apple of choice, sliced*
1/2 tbsp honey
1 tbsp chia seeds
1 tbsp date paste (or 1-2 chopped dates)
1/2 teaspoon ground cinnamon + extra for topping
1/8 teaspoon ground nutmeg
Pinch of sea salt
Optional topping: 1 tbsp unsweetened nut or seed butter
Instructions:
1.) Slice apple and toss with honey.
2.) Add oats, apple, chia seeds, almond milk and salt to a saucepan over high heat.
3.) When it reaches a boil, reduce heat to medium low heat to simmer.
4.) Add the cinnamon, nutmeg, and date paste once the oats are simmering. Cook for 15-20 minutes or until desired consistency is reached. Top with a dash of cinnamon.
-Optional: Top with nut or seed butter of choice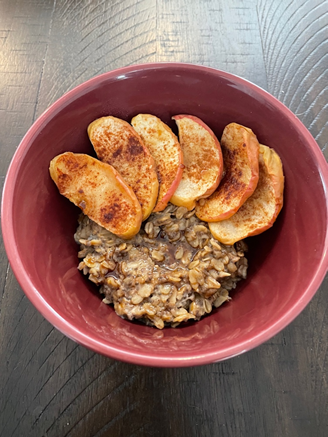 Image and Recipe Credit: Sierra Andersen,
M.D. Candidate, Class of 2023
University of Massachusetts Chan Medical School
IBD-AID Phase III (as tolerated).
For IBD-AID Phase II, may need to use ground chia seeds, peel and dice apple, and cook oatmeal longer (as tolerated).