Page Menu
Sweet Potato Carrot Spinach Soup
Prep Time: 5 minutes Cook Time: 15-20 minutes Makes: 2 servings
½ medium sweet potato, chopped
1" piece fresh grated ginger
1 handful baby spinach (stems removed if needed)
2 cups water or broth (without sugar in ingredients)
1. Saute onion in olive oil in medium saucepan over medium heat until translucent. Add garlic and ginger and cook for ~30 seconds or until you can smell the garlic and ginger. Add carrots and sweet potato and stir to coat with onion mixture.
2. Add water (or broth) to saucepan. Bring to a boil. Reduce heat and simmer until vegetables are soft. Remove from heat. Blend soup using a stick blender or regular blender (be sure to vent) until smooth (or leave some chunks of veg if you prefer). Salt and pepper to taste.
3. Add spinach to top of soup. Cover and wilt spinach for a few minutes. Give soup a stir and enjoy!
IBD-AID Phase I*, II, and III (as tolerated)
*For Phase 1, use stemless spinach or puree spinach (as tolerated)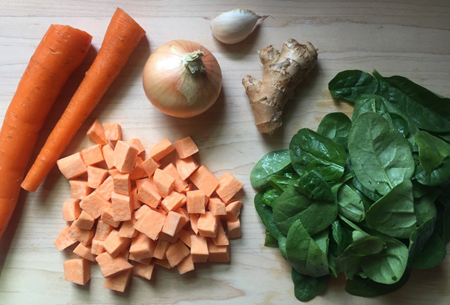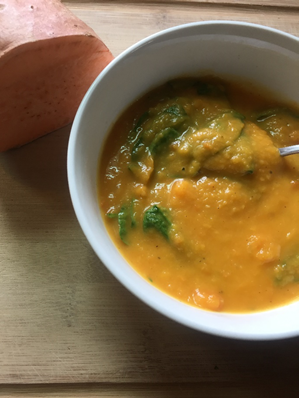 Recipe and Image Credit: Rene Maserati