Page Menu
Vegetarian Jambalaya
Note: Allow time to completely freeze and then thaw the tofu before you start to cook this recipe. Freezing completely changes tofu's texture, making it chewy, the perfect foil for the spices and sauce of the Jambalaya.
1 lb. extra firm tofu, frozen and thawed (see note above)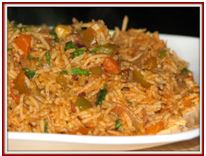 2 T oil (olive or Canola)
1 large onion, chopped
4-6 garlic cloves, minced
1 can (16 oz.) Low Sodium Chopped tomatoes, save liquid
1 cup chopped celery
1 cup green bell pepper, diced
1 cup red bell pepper, diced
1 tsp. liquid smoke
3/4 C fresh parsley, minced
2 bay leaves
2 tsp. dried thyme leaves
2 tsp. dried basil
1/4 tsp. cayenne
2 C uncooked brown rice
salt, pepper and hot sauce (preferably Tabasco) to taste
Serves 6
Squeeze as much water out of thawed tofu as possible, without breaking it up too much. Cut squeezed tofu into ½" squares and set aside.
Heat oil in a large Dutch Oven and add onions and garlic. Saute until just starting to brown, remaining ingredients except tofu, rice and reserved liquid. Combine reserved tomato juice and water or vegetable stock to make about 3 cups. Add this mixture to the pot and bring to a boil. Add drained tofu and rice. Cover, reduce heat and simmer for about 45 minutes. Remove from heat, remove bay leaves and adjust seasonings.
Per serving (464g): 368 calories, 9.8g fat, 1.7g sat fat, 58g carbohydrate, 13g protein, 9.3g fiber, 234mg calcium, 4mg iron, 72mg vitamin C, 151mg sodium