Page Menu
Why Steel Cut Oats?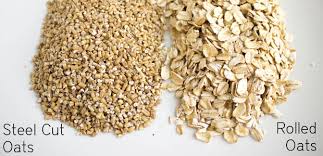 by Judy Palken MNS, RD, LDN
Steel cut oats are a great way to start the day, as a nice steaming bowl of porridge on a cold morning. But did you know that you can also use them in savory dishes, for a satisfying lunch or dinner? We tend to associate oats with breakfast, but they are actually a grain, like rice or quinoa, and work wonderfully well in a variety of dishes.
Nutritionally speaking… oats are great partly because of their particular type of fiber -- water-soluble fiber-- which leads to a nice feeling of fullness, can help with the regulation of blood sugar and lowers the harmful LDL-cholesterol, and so reduces the risk of heart disease and diabetes.
In addition to all of these great benefits, when oat fiber reaches the large intestine, it is metabolized by the good bacteria that live there, who then decrease inflammation and promote good gastrointestinal health. All in all, oats are one of nature's most perfect foods.
Steel cut oats are particularly great because they are only very minimally processed. To get steel cut oats, the oat kernel (called a groat) is cut into two or three pieces with a sharp blade. They are not steamed and rolled, like old fashioned (regular) oats. They take longer to digest and absorb than regular (old fashioned), quick, or instant oats. That is a good thing - the longer they hang around in our intestines, the more good they can do, so be consistent in providing your body with this needed fuel.
Note: You may have seen quick cooking steel cut oats - they are simply cut smaller, so they cook faster. Like rolled oats, these are still good, but may have a lesser effect than the longer cooking steel cut oats. Keep them all on hand, if you like.
Now for the recipes: Try these delicious combinations of flavors! Click the recipe title to print the recipe.
Serves 4
Ingredients:
3 cups water

1 cup steel cut oats

2 Tbsp extra virgin olive oil

2 firm, ripe plantains, peeled and sliced

1 large onion, diced

1 green pepper, diced

1/2 cup chicken broth

2 15-oz cans of black beans, rinsed and drained

1 tsp cumin

salt and pepper to taste
Directions:
Bring 3 cups of water to a boil, and add the steel cut oats.

Reduce heat to a low simmer, cover loosely, and cook 20-30 minutes, depending upon how soft you prefer your oats.

Heat 1 Tbsp oil in a medium skillet over medium heat. Cook plantains for 4-5 minutes until golden and slightly browned, turning once after 2 minutes. Remove from heat.

Heat remaining 1 Tbsp olive oil over medium heat and sauté the onion and green pepper 5-7 minutes, until onion is translucent and starting to brown.

Add the beans, chicken stock, cumin, salt, and pepper, and cook for 5-8 minutes more, until beans are heated. Top oatmeal with black beans and plantains. If desired, garnish with fresh cilantro, sliced avocado and cheese.
Adapted from: http://www.quakeroats.com/cooking-and-recipe/cuban-style-black-beans-plantains-over-oatmeal.aspx
Serves 2
Ingredients:
3 1/2 cups water

dash salt (optional)

1 cup steel-cut oats

1/2 cup unsweetened almond milk

1/2 cup cashews (optional, may also use nut butter)

1/4 cup raisins and/or dried cranberries (optional)

1/2 tsp pure vanilla extract

1/2 tsp cinnamon
Directions:
Bring water and salt to a boil in a saucepan. Stir oats into boiling water.

Cook oats until thick and soft, 20 to 30 minutes.

Stir in milk, cashews, raisins and/or cranberries, vanilla extract, and cinnamon; continue cooking for 10 more minutes, stirring frequently.
adapted from: http://allrecipes.com/recipe/221236/steel-cut-oatmeal/
Here is another, from right here on our website:
4 servings
Ingredients:
About 1 1⁄2 pounds chard

2 tablespoons extra virgin olive oil

4 bone-in chicken thighs

salt and black pepper

1 red onion, halved and sliced

3 garlic cloves, sliced

3⁄4 cup steel-cut oats

1⁄2 cup water

2 cups vegetable or chicken stock or water, or more as needed

2 tablespoons balsamic vinegar
Directions:
Cut the stems out of the chard leaves. Cut the leaves into wide ribbons and slice the stems; keep the leaves and stems separate.

Put the oil in a large skillet over medium-high heat. When it's hot, add the chicken thighs, skin side down, and sprinkle with salt and pepper; cook, rotating and turning as necessary, until browned on all sides, 10 to 15 minutes. Remove the chicken. Add the onion and garlic to the skillet and cook, stirring, until softened, 3 to 5 minutes.

Add the chard stems and oats along with another sprinkling of salt and pepper; cook, stirring occasionally, until the oats are glossy and coated with oil, 2 to 3 minutes. Add the wine, stir, and let the liquid bubble away. Add the 2 cups stock all at once and return the chicken thighs to the skillet (skin side up). Reduce the heat to medium-low, cover, and cook. Check to see if the oats are tender after 15 minutes; if they're not quite done, cook for another 5 minutes, then test again. If the oats become dry, add a little more stock or water.

When the oats are almost done, add the chard leaves and the vinegar. Replace the lid, remove the skillet from the heat, and let rest for 5 minutes. Fluff with a fork and taste and adjust the seasoning. Serve.