Page Menu
Diabetic Recipe: Baked Zucchini Chips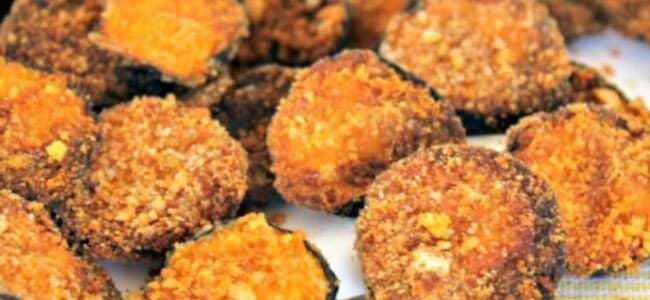 Makes 6 servings
Ingredients
1 large zucchini, cut into ¼ inch slices
⅓ cup whole wheat breadcrumbs or Panko breadcrumbs
¼ cup reduced-fat, finely grated Parmesan cheese
3 tablespoons low-fat milk
½ teaspoon garlic powder
Paprika, cayenne pepper, cumin and/or spice of your choice, to taste
Instructions
1. Preheat oven to 425 degrees F.
2. Combine bread crumbs, grated cheese, garlic powder and cayenne pepper in a bowl. Place milk in another small bowl.
3. Arrange the zucchini slices on a paper towel and cover with additional paper towel, pressing gently to squeeze out moisture.
4. Dip the slices in milk and coat with the mixture.
5. Arrange coated zucchini slices on a wire rack, pizza dish, cookie sheet/parchment paper or nonstick baking pan until crisp (about 10-15 minutes).
Nutrition per Serving (6 chips)
Calories: 59
Protein: 3 g
Total Fat: 2 g
Saturated Fat: 1 g
Carbohydrate: 7 g
Recipe adapted from The Mediterranean Dish, Everyday Diabetic Recipes and A Spicy Perspective
It's important to pay attention to serving size. Everyone's dietary needs and restrictions are unique. Check with your diabetes care team about specific questions or concerns.