Page Menu
Diabetic Recipe: Jambalaya-Skillet Style with Smoked Turkey Sausage and Chicken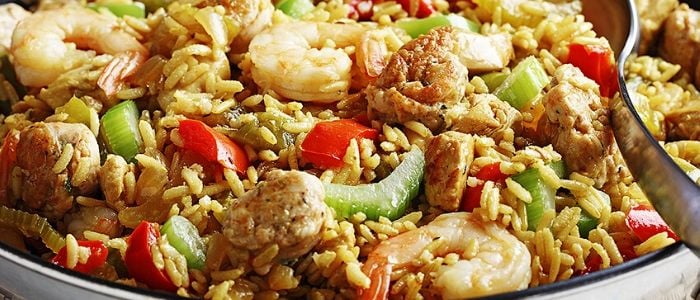 Serves 4 - serving size = 1⅓ cups
Ingredients
1½ cups smoked turkey sausage, thinly sliced

¼

lb. boneless, skinless chicken breast, cut into bite-size pieces
½ lb. medium raw shrimp, peeled and deveined
¾ cup quick-cooking brown rice
1 cup chopped red bell pepper
1 cup chopped green bell pepper
½ cup chopped onion
1 medium celery stalk, thinly sliced
1

¼

cups of water
2 Tablespoons canola oil, divided
2 dried bay leaves
½ teaspoon dried thyme leaves
⅛ teaspoon ground turmeric (optional)
2-3 teaspoons Louisiana-style hot sauce
½ teaspoon salt
Instructions
1. Heat one teaspoon of canola oil in a large nonstick skillet over medium-high heat. Add sausage and cook for 3 minutes. Remove from skillet and set aside.
2. In the same skillet, heat another 1 teaspoon of canola oil, add chicken, and cook for 2 minutes, stirring frequently, until it's no longer pink. Add another teaspoon of canola oil to cook peppers, onion, and celery for 4 minutes or until onions are soft. Add water and bring to a boil over medium-high heat. Stir in the rice, shrimp, bay leaves, thyme, and turmeric. Return to a boil, reduce heat, cover tightly, and simmer for 10 minutes.
3. Remove from heat. Add sausage, the remaining Tablespoon of canola oil, hot sauce, and salt. Cook uncovered for 2 minutes to thicken slightly but maintain a moist and saucy texture. Remove bay leaves. Serve with additional hot sauce, if desired.
Nutrition per Serving
Calories: 305
Protein: 23 g
Total Fat: 12 g
Saturated Fat: 2½ g
Carbohydrate: 23 g
Dietary Fiber: 2 g
Recipe adapted from the American Diabetes Association's Everyday Recipes, The Heart-Smart Diabetes Kitchen
It's important to pay attention to serving size. Everyone's dietary needs and restrictions are unique. Check with your diabetes care team about specific questions or concerns.