Page Menu
Diabetic Recipe: Sweet and Sour Chicken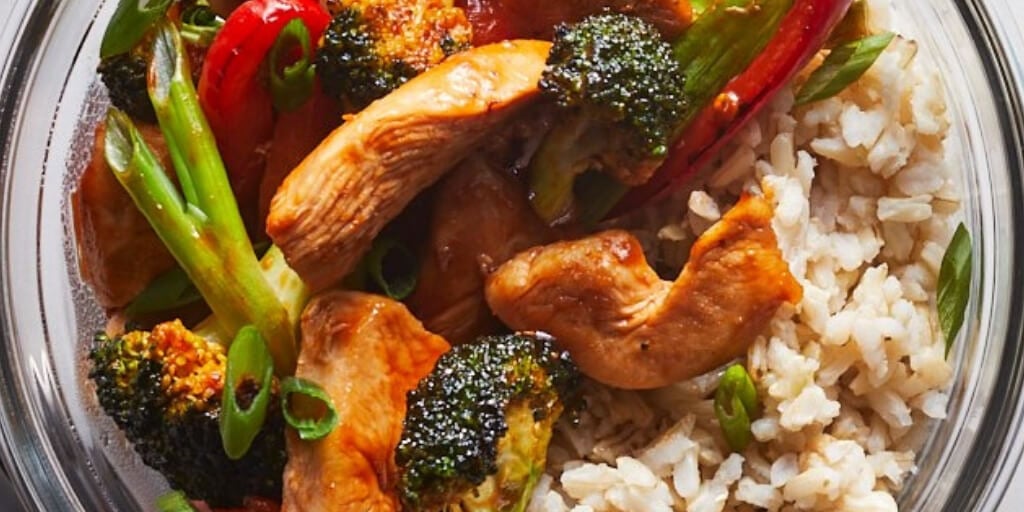 Makes 4 servings
Ingredients
1 pound boneless, skinless chicken breasts, cut into bite-size pieces
8 oz. small broccoli florets

2 cups chopped red bell pepper

3 cups cooked brown rice (a bag of cauliflower rice if preferred)

1 cup diagonally sliced scallions (one inch)

¼ teaspoon of salt

2 tablespoons toasted sesame oil, divided

¼ cup no-salt-added ketchup (or Sriracha if you prefer it spicy)

¼ cup pineapple juice

3 tablespoons reduced-sodium soy sauce

1 tablespoon rice vinegar (optional)

2 teaspoons honey

½ teaspoon ground pepper
Instructions
1. In a small bowl, whisk the ketchup, pineapple juice, soy sauce, honey, vinegar and salt & pepper.
2. In a large skillet, heat 1 tablespoon of oil over high heat. Add the chicken and cook until browned on all sides (4 - 5 minutes). Transfer to a plate.
3. Wipe the skillet clean and return to high heat, with the remaining 1 tablespoon of oil. Add broccoli & bell pepper and cook until charred (about 5 minutes). Add scallions and cook for 1 minute. Add the cooked chicken to the skillet along with the ketchup mixture. Cook until the sauce covers all of the chicken. Serve over rice.
Nutrition Facts per Serving
Calories: 444
Protein: 30 g
Total Fat: 11 g
Carbohydrate: 56 g
Sugars: 13 g
Fiber: 6 g
Recipe adapted from EatingWell.com
It's important to pay attention to serving size. Everyone's dietary needs and restrictions are unique. Check with your diabetes care team about specific questions or concerns.