Page Menu
Homemade Sugar-Free Gummy Worms & Peanut Butter Cups
Recipes adapted from Mr. Food Test Kitchen & Food.com
Sugar-Free Gummy Worms
Serving size 4 pieces - Recipe makes 7 servings
Ingredients
2 packages (4-serving size) sugar-free gelatin (any flavor)
2 (0.13-oz.) envelopes unsweetened soft drink mix (such as Kool-Aid, any flavor)
¾ oz. (3 envelopes from a 1 oz box) unflavored gelatin
1 cup boiling water
Instructions
1. Coat an 8-inch square baking dish with cooking spray.
2. In a medium bowl, combine all ingredients until dissolved. Pour into baking dish, cover, and chill for 2-3 hours, or until completely set.
3. Cut into ¼-inch strips to form "worms." Cookie cutters can be used to form other shapes.
Nutrition per Serving
Calories: 14
Protein: 3.7 g
Total Fat: 0
Total Carbohydrate: 0
Fiber 0
Sugar 0
Peanut Butter Cups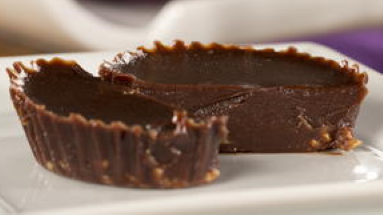 Serving size 1 piece - Recipe makes 10 servings
Ingredients
¼ cup chopped peanuts
One (1 oz.) square unsweetened baking chocolate
1 stick of butter OR ½ cup of yogurt
⅓ cup Splenda sugar substitute
1 tablespoon of half-and-half
4 tablespoons reduced-fat peanut butter
Instructions
1. Line 10 muffin cups with paper liners. Sprinkle nuts evenly into muffin cups.
2. Use a microwaveable bowl to heat chocolate, butter (or yogurt) and Splenda on high for about one minute (or until melted). Do not boil. Stir in half-and-half & peanut butter.
3. Divide mixture evenly into muffin cups. Freeze until firm. Keep frozen until ready to serve.
Nutrition per Serving
Calories: 156
Protein: 3 g
Total Fat: 15 g
Saturated Fat: 7.5 g
Total Carbohydrate: 4.5 g
Fiber 1 g