Page Menu
Diabetic Recipe: Lemon Dill Baked Fish Fillets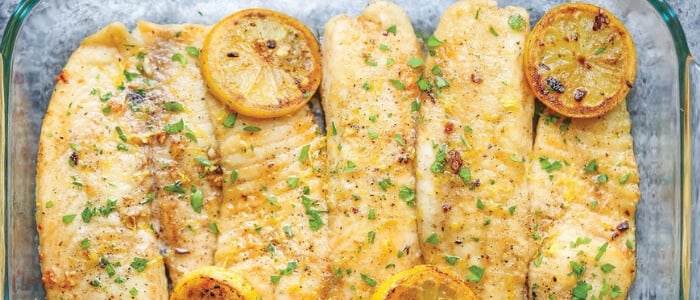 Makes 4 servings
Ingredients
4 (4 oz) firm, white fish fillets (cod, haddock, tilapia, etc.)
1¼ pounds of top round beef cut into bite sized pieces
Cooking spray
½ cup lemon-dill coating
Lemon wedges
Lemon-Dill Coating Ingredients
2 cups finely crushed plain Melba toast rounds
2 tablespoons paprika
2 tablespoons grated lemon rind
1 tablespoon plus 1 teaspoon dried dillweed
1½ teaspoons dry mustard
Instructions
1. Preheat oven to 400 degrees F.
2. Combine the lemon-dill coating ingredients in a large heavy-duty, zip-top plastic bag and shake well. Store in refrigerator tightly sealed. Shake well before each use. Can be used to coat fish or chicken.
3. Coat both sides of fish with cooking spray. Dredge the fish in lemon-dill coating. Place fish in a baking dish coated with cooking spray.
4. Bake at 400 degrees for 15 minutes or until fish flakes easily when tested with fork. Serve with lemon wedges or spheres, if desired.
Nutrition per Serving (may vary slightly based on fish choice)
Calories: 395
Protein: 31 g
Fat: 10 g
Carbohydrate: 42 g
It's important to pay attention to serving size. Everyone's dietary needs and restrictions are unique. Check with your diabetes care team about specific questions or concerns.