Page Menu
Diabetic Recipe: Whole Wheat & Lean Meat Lasagna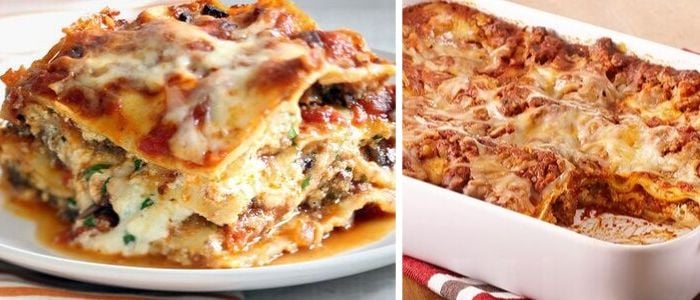 Makes 10 servings
Ingredients
9 sheets of whole-wheat lasagna noodles
1½ lbs. of ground turkey

2

cups

part-skim or fat-free shredded mozzarella cheese

1 egg

15

oz.

fat-free ricotta cheese

28

oz.

can of no-salt-added crushed tomatoes

1

large onion,

chopped

2

cloves

garlic,

minced

4

basil leaves,

chopped

1

teaspoon

dried oregano

2

teaspoons

olive oil

salt & pepper to taste
Instructions
Preheat oven to 350 degrees F.
Cook noodles according to package instructions, unless using oven ready noodles. Then place in cold water to stop additional cooking.
Heat the olive oil in a large skillet and saute the onions. Add the garlic, ½ teaspoon of oregano and half of the basil.
Add the ground turkey and mix until the meat is cooked.
Drain excess liquid and add salt and pepper. Add the tomatoes and cook until the mixture is boiling, then remove from heat.
In another bowl. mix the ricotta cheese, egg and the rest of the basil.
Drain the noodles and cover the bottom of a rectangular pan with three noodles.
Add ⅓ of the meat mixture and spread evenly.
Add ⅓ of the ricotta mixture and spread evenly
Sprinkle in some shredded cheese.
Cover with three more noodles and spread another ⅓ of the turkey and ricotta mixtures.
Cover with the final three noodles and the last ⅓ of the mixtures and sprinkle the remaining shredded

mozzarella.

Spray foil with nonstick spray, then cover and bake for 45 minutes.

Remove foil and bake for an additional 10 minutes.

Broil for 2 minutes or until the top is brown.

Remove from the oven an let the lasagna cool for 10 minutes before serving.
Nutrition per Serving
Calories: 291
Protein: 29 g
Total Fat: 6 g
Saturated Fat 2 g
Carbohydrate: 30 g
Fiber: 1 g
It's important to pay attention to serving size. Everyone's dietary needs and restrictions are unique. Check with your diabetes care team about specific questions or concerns.