Page Menu
Diabetic Recipe: Pumpkin-Maple Pie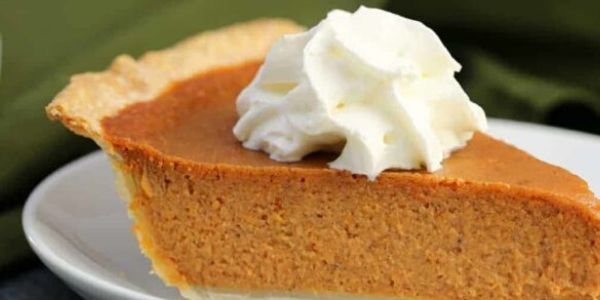 Makes 8 servings (8 slices)
Ingredients
Lower-Fat Oil Pastry (see below)

15 oz. can pumpkin

⅓ cup maple-flavored syrup
1 Tablespoon all-purpose flour

2 packets heat-stable sugar substitute

1½ teaspoons pumpkin pie spice

¾ cup refrigerated or frozen egg product, thawed

1 cup evaporated fat-free milk
1½ teaspoons vanilla
Frozen light whipped dessert topping, thawed (optional)
Ground cinnamon (optional)
Lower-Fat Oil Pastry
1¼ cups all-purpose flour
¼ teaspoon salt
¼ cup fat-free milk
3 Tablespoons cooking oil
In a medium bowl stir together flour & salt. Combine milk
and oil; add all at once to flour mixture. Stir with a fork until
dough forms. If necessary, add 1-2 teaspoons additional
milk. Shape the dough into a ball.
Instructions
1. Prepare Lower-Fat Oil Pastry. On a lightly floured surface flatten pastry. Roll into a 12-inch circle. Wrap pastry circle around the rolling pin; unroll into a 9-inch pie plate. Ease pastry into pan, being careful not to stretch pastry. Trim to ½ inch beyond edge of pie plate. Fold under extra pastry. Crimp the edge as desired. Do not prick pastry.
2. For the filling, in a medium bowl combine the pumpkin, maple-flavored syrup, flour, sugar substitute, and pumpkin pie spice; add egg product. Beat lightly with a rotary beater or fork until just combined. Gradually stir in evaporated milk and vanilla; mix well.
3. Place pastry-lined pie plate on oven rack. Carefully pour filling into pastry shell. To prevent overbrowning, cover edge of pie with foil. Bake in a 375°F oven for 25 minutes. Remove the foil. Bake 20 to 25 minutes more or until a knife inserted near the center comes out clean. Cool on a wire rack. Cover
and refrigerate within 2 hours. If desired, top with dessert topping and sprinkle with ground cinnamon.
Nutrition per Slice
Calories: 216
Protein: 8 g
Fat: 6 g
Saturated Fat: 1 g
Carbohydrate: 32 g
Dietary Fiber: 2 g
Recipe provided by the American Association of Diabetes Educators
It's important to pay attention to serving size. Everyone's dietary needs and restrictions are unique. Check with your diabetes care team about specific questions or concerns.