Page Menu
Diabetic Recipe: Cranberry Salmon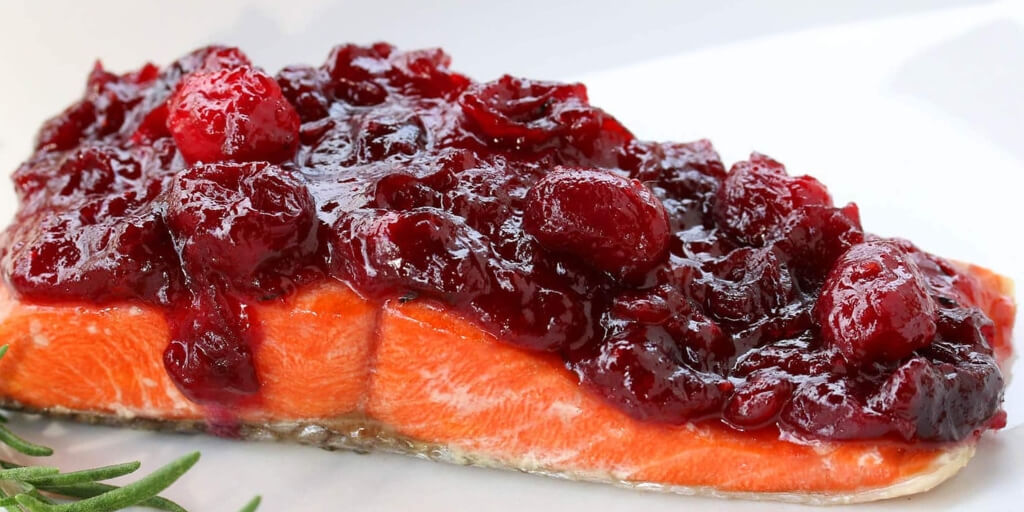 Makes 4 servings
Ingredients
Nonstick vegetable oil spray
2 tablespoons olive oil, divided
1 tablespoon Dijon mustard
Four 5 oz boneless salmon fillets
Salt and freshly ground black pepper
¼ cup dried cranberries
2 tablespoons chopped shallots or onion
1 tablespoon red wine vinegar
2 tablespoons of water
Instructions
1. Preheat oven to 450 degrees F. Cover a baking sheet with foil and lightly spray with oil.
2. In a medium bowl, whisk 1 tablespoon of oil and mustard together.
3. Place salmon on foil-covered baking sheet, skin side down, and season with salt and pepper. Brush salmon with oil-mustard blend. Roast until the fish is cooked through, about 15 minutes.
4. Whisk the cranberries, shallots or onion, vinegar, and water with the remaining tablespoon of oil, and salt and pepper in a small saucepan. Bring to a boil, then reduce heat to low. Simmer for 10 minutes or until cranberries and shallots/onions are soft. Remove from heat and cover for a moment until the salmon is cooked.
5. Once fully cooked, remove from oven and put a piece of fish on each plate. Spoon the sauce over the fillets and serve while hot.
Nutrition per Serving
Calories: 351
Protein: 33 g
Total Fat: 17 g
Saturated Fat: 2 g
Carbohydrate: 15 g
Fiber: 1 g
It's important to pay attention to serving size. Everyone's dietary needs and restrictions are unique. Check with your diabetes care team about specific questions or concerns.