Page Menu
Diabetic Recipe: Raspberry-Lemon Chiffon Icebox Cake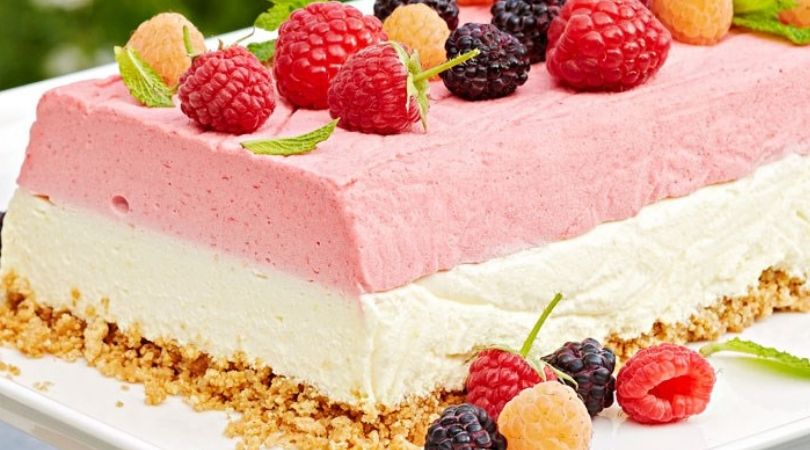 Makes 10 servings (10 slices)
Ingredients
4 cups of raspberries (fresh or frozen)

2¼ teaspoons fat-free, sugar-free, reduced-calorie lemon instant pudding mix

½ cup nonfat milk

1¼ teaspoons unflavored gelatin

8 oz. container of frozen light whipped topping (thawed)

4 finely crushed graham crackers

2 Tablespoons of melted butter or butter substitute
1 Tablespoon sugar (substitutes not recommended for this recipe)
½ cup water
Instructions
1. Coat an 8x4-inch loaf pan with cooking spray. Line with a double layer of plastic wrap, letting it overhang 2 inches on the sides.
2. Combine the berries and ¼ cup water in a saucepan. Mash the berries then bring to a boil. Reduce heat and simmer, uncovered, for 10 minutes. Press the mixture through a fine-mesh sieve and discard the seeds. Return to the saucepan and stir in the sugar. Return to a simmer and cook for another 10 minutes until reduced to ½ cup. Let it cool slightly.
3. Add the remaining ¼ cup water to a small saucepan and sprinkle gelatin on top (do not stir). Let stand 5 minutes. On medium heat, stir until the gelatin is dissolved. Combine the gelatin mixture, berry mixture and ½ cup whipped topping and mix it all together. Add another ½ cup whipped topping until there are no streaks. Spoon the mixture into the prepared pan, cover and refrigerate until set (about 1 hour).
4. Whisk milk and pudding mix in bowl until thick. Add ⅓ of the remaining whipped topping until combined, then fold in the remaining whipped topping until no streaks remain and spread it over the raspberry layer.
5. Combine the graham cracker crumbs and melted butter in a bowl. Gently press the mixture onto the pudding layer. Cover and refrigerate for 1 to 8 hours.
6. Use the overhanging plastic wrap to remove the cake from the pan. Invert onto your serving plate. Garnish with additional berries if you choose.
Nutrition per Slice
Calories: 138
Protein: 2 g
Fat: 6 g
Carbohydrate: 21 g
Sugar: 8 g
Recipe adapted from Diabetic Living Magazine & EatingWell.com
It's important to pay attention to serving size. Everyone's dietary needs and restrictions are unique. Check with your diabetes care team about specific questions or concerns.