Page Menu
Diabetic Recipe: Pepperoni Pizza Chicken Bake
Makes 8 servings
Ingredients
4 large chicken breasts, boneless and skinless
2 oz. pepperoni (or turkey pepperoni)
6 oz. shredded Mozzarella (part-skim or full-fat)
1 jar of pizza sauce (Ragu homemade style has only 18 carbs)
1 tablespoon olive oil
1 teaspoon garlic powder
1 teaspoon oregano
Instructions
1. Preheat oven to 400 degrees F. Put the pizza sauce in a small saucepan and simmer over low heat until it's reduced to one cup (about 20 minutes).
2. Trim chicken then cut each breast in half and pound until thin as possible. Season with oregano-garlic powder mix, then quickly brown the chicken on both sides.
3. Heat the olive oil over medium-high heat in the largest non-stick frying pan you have (may need to spilt into 2 batches). Add the chicken pieces and cook 1-2 minutes on each side, just enough to brown but not cook through.
4. Place the chicken in a glass casserole dish that is barely large enough to fit it all. Spread a generous amount of the sauce on each piece.
3. Add Mozzarella and few slices of pepperoni on each chicken breast.
4. Bake at 400 degrees F for 25-30 minutes, or until the cheese is melted and starting to slightly brown. Serve hot.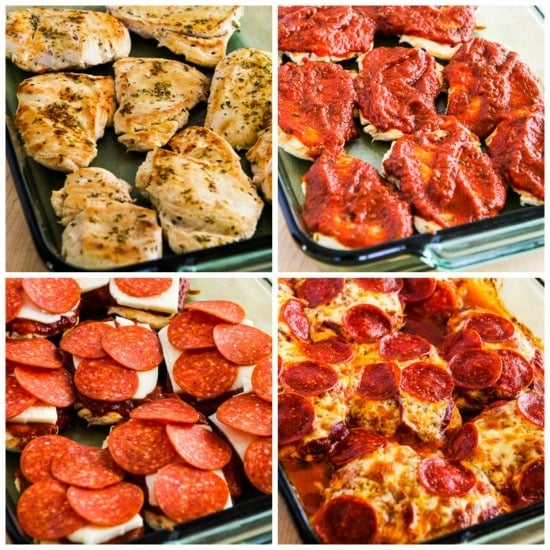 Nutrition per Serving
Calories: 258
Protein: 28 g
Fat: 14 g
Carbohydrate: 3 g
Recipe adapted from Kalyn's Kitchen and Spark Recipes
It's important to pay attention to serving size. Everyone's dietary needs and restrictions are unique. Check with your diabetes care team about specific questions or concerns.