Page Menu
Diabetic Recipe: Beet Soup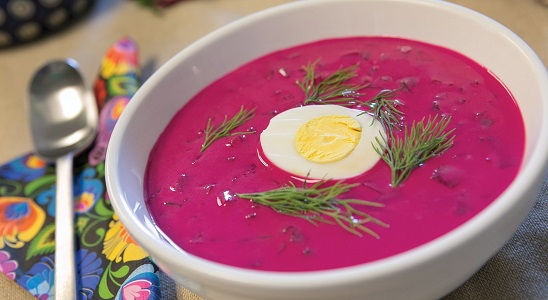 Makes 4 servings
Ingredients
5 beets, preferably with stems
1 cube of beef bouillon
2 cucumbers, peeled and grated or thinly chopped
Bunch of scallions, chopped
4 cups of plain yogurt
4 cups of kefir (or milk)
2 Hard boiled eggs
Fresh dill, chopped (optional)
Salt and pepper
Instructions
1. Remove, wash and dice beet stems. Peel and grate, or thinly chop, beet roots, and place in large pot.
2. Add bouillon cube and water, just to cover. Boil until beets are tender, then let cool.
3. Add cucumbers, scallions, yogurt and kefir. Mix well. Add salt and pepper to taste.
4. Serve chilled. Garnish with dill right before serving. Add a halved hard boiled egg on top of each bowl.
Nutrition per Serving
Calories: 328
Protein: 21 g
Fat: 14 g
Carbohydrate: 28 g
Recipe adapted from UMass Memorial's Simply Well newsletter
It's important to pay attention to serving size. Everyone's dietary needs and restrictions are unique. Check with your diabetes care team about specific questions or concerns.