Page Menu
Diabetic Recipe: Turkey and Bean Chili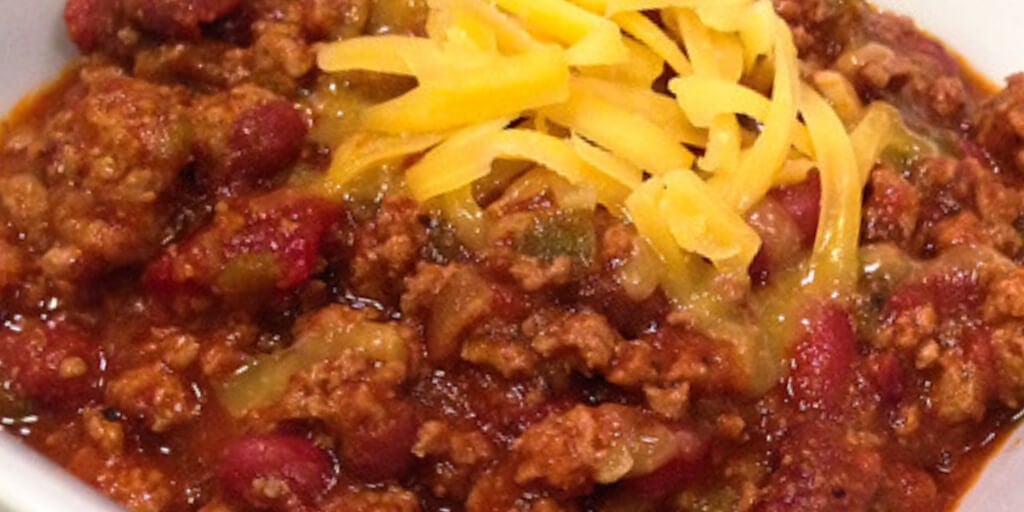 Makes approximately 8 servings
Ingredients
1 pound of uncooked ground turkey breast
Two 15 oz cans of dark red kidney beans, rinsed and drained
Five 14.5 oz cans no-salt added diced tomatoes, undrained
2 thinly sliced celery stalks
2 thinly sliced medium carrots
1 finely chopped medium onion
3 minced garlic cloves
2 tablespoons chili powder
1 tablespoon olive oil
2 teaspoons ground cumin
½ teaspoon salt and ½ teaspoon ground black pepper
One 4 oz can diced green chili peppers (optional)
½ cup reduced-fat shredded cheddar cheese (optional)
Instructions
1. In an airtight container or resealable plastic bag, combine celery, carrots, onion, garlic, chili powder, oil, cumin, salt, and pepper. Cover or seal and chill for up to 24 hours. Keep beans in a separate airtight storage container. Chill for up to 24 hours.
2. In a 6 to 8 quart Dutch oven, combine vegetable mixture and turkey. Cook until turkey is no longer pink and vegetables are tender, stirring occasionally to break up turkey. Stir in beans, undrained tomatoes, and, if desired, chile peppers. Bring to a boil then reduce heat. Cover and simmer for 20 minutes, stirring occasionally.
3. If desired, sprinkle individual servings with cheese.
Nutrition per Serving
Calories: 232
Protein: 23 g
Total Fat: 3 g
Saturated Fat: 1 g
Carbohydrates: 34 g
Fiber: 12 g
It's important to pay attention to serving size. Everyone's dietary needs and restrictions are unique. Check with your diabetes care team about specific questions or concerns.