Page Menu
Diabetic Recipe: Seafood Chowder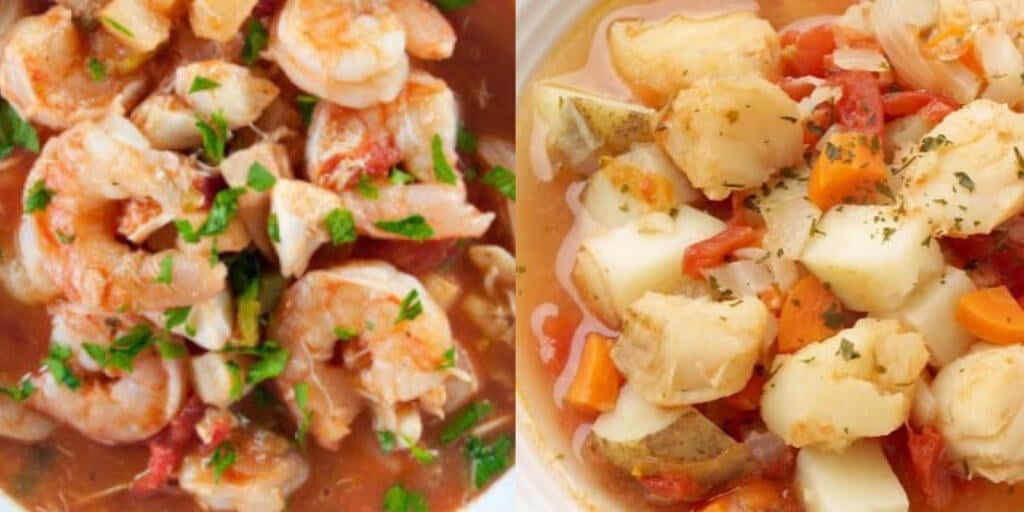 Makes 6 main course servings
Ingredients
1 tablespoon olive or canola oil
1 ½ cups chopped onion
1 tablespoon minced garlic
1 ½ - cups carrots, cut into sticks or pieces
2 cups celery sliced on the diagonal
2 cups potatoes, cut into one inch cubes (optional)
Two 14 oz. cans diced tomatoes in tomato juice (no salt if possible)
2 cups chicken broth (low sodium if possible)
1 tablespoon dried parsley
½ teaspoon dried basil
½ teaspoon dried thyme leaves
½ teaspoon salt (optional)
¼ teaspoon ground pepper
⅛ teaspoon cayenne (optional)
1⅓ lbs. skinless fish fillet cut into one inch cubes (scrod or halibut works well)
¾ lbs. large shrimp (remove shells from frozen shrimp)
Instructions
1. Heat oil in large pot. Add onion and sauté over medium heat for two minutes. Add garlic and sauté for another minute.
2. Add carrots and celery; sauté for about five minutes, stirring often. Add tomatoes, juice, broth and all herbs & seasonings.
3. Bring to a boil then reduce heat, cover and simmer for 10 minutes.
4. Add the potatoes, cover & simmer for an additional 10-15 minutes.
5. Add the fish and shrimp, cover and simmer for about five more minutes.
Nutrition per Serving (varies based on the fish you use)
Calories: 300
Protein: 40 g
Fat: 6 g
Carbohydrate: 19 g
Fiber: 4 g
It's important to pay attention to serving size. Everyone's dietary needs and restrictions are unique. Check with your diabetes care team about specific questions or concerns.