Page Menu
Diabetic Recipe: Fish Tacos with Avocado Salsa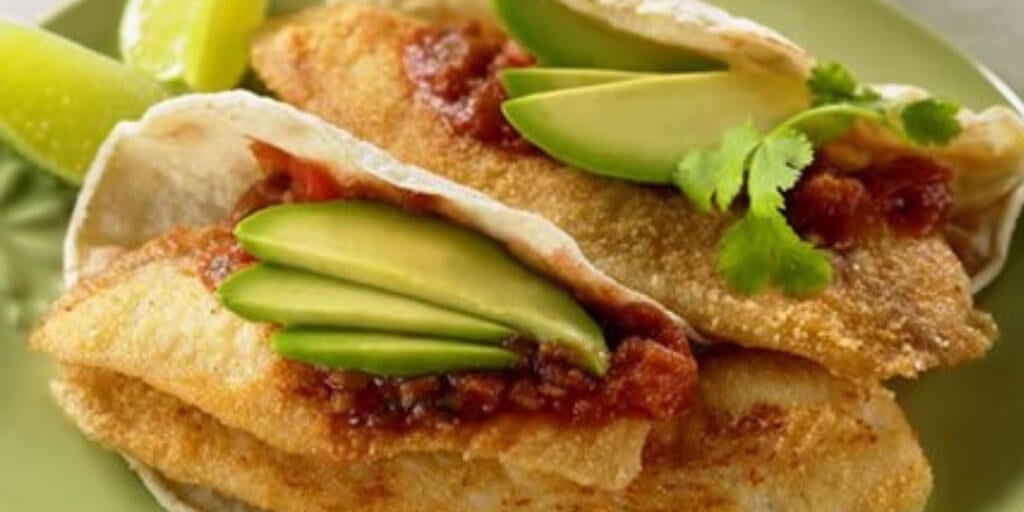 Makes 4 servings (serving size = 2 tacos)
Ingredients
4 (4 oz) fish fillets (cod, haddock, tilapia, etc.)
8 corn tortillas, warmed (or whole wheat soft taco shell of your choice)
½ medium avocado - peeled, pitted and diced
½ cup of fresh pico de gallo, salsa verde, or picante sauce
½ teaspoon onion powder
½ teaspoon chili powder
¼ cup all-purpose flour
¼ cup cornmeal
2 tablespoons canola oil
¼ teaspoon salt
1 medium lime cut into 8 wedges
Instructions
1. Rinse the fish then pat dry and cut into 8 strips
2. Combine flour, cornmeal, onion powder, and chili powder in a bowl and then coat the fish.
3. Heat the oil in a nonstick skillet over medium high heat. Cook the fish for three minutes on each side (or until browned and fish flakes with a fork). Place on a serving platter and sprinkle evenly with salt.
4. Place one fish strips into each of the eight warmed tortillas, and top with avocado and pico de gallo. Lime wedge could be squeezed over each taco if desired.
Nutrition per Serving (may vary slightly based on fish choice)
Calories: 375
Protein: 27 g
Total Fat: 14 g
Saturated Fat: 2.2 g
Carbohydrate: 37 g
Recipe adapted from the American Diabetes Association's cookbook: The Heart-Smart Diabetes Kitchen: Fresh, Fast and Flavorful Recipes Made with Canola Oil
It's important to pay attention to serving size. Everyone's dietary needs and restrictions are unique. Check with your diabetes care team about specific questions or concerns.