Page Menu
Diabetic Recipe: Spinach-Roasted Red Pepper Dip
Enjoy with broccoli, carrot sticks, cauliflower, and/or sliced red and/or yellow pepper strips.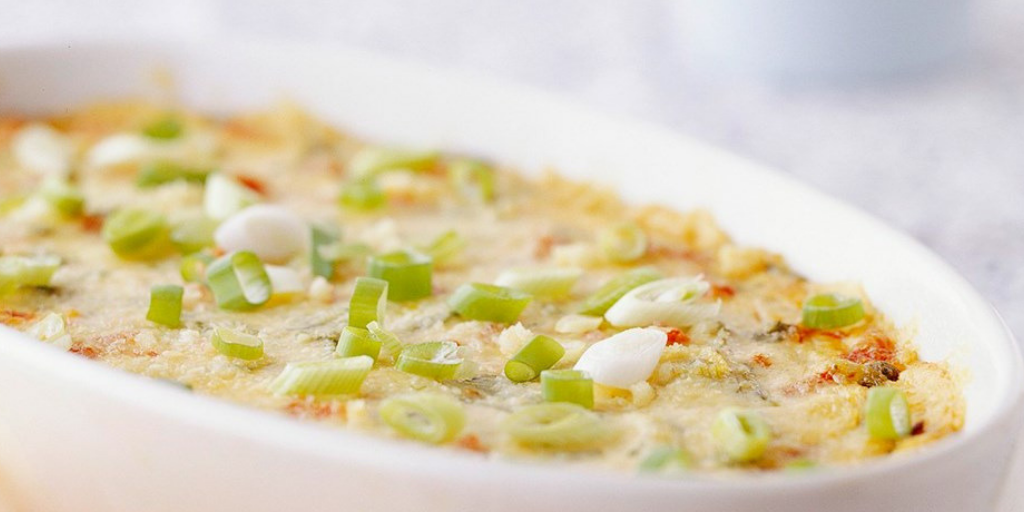 Makes 36 servings - serving size is 1 tablespoon
Ingredients
½ cup shredded part-skim mozzarella cheese
½ cup plain low-fat or fat-free yogurt
½ cup light mayonnaise dressing or salad dressing
¼ cup grated parmesan cheese
1 tablespoon of all-purpose flour
1 teaspoon of dijon-style mustard
1 cup chopped, fresh spinach leaves
¾ cup bottled roasted red sweet-peppers, drained and chopped
¼ cup thinly sliced green onions
Instructions
1. Preheat oven to 350 degrees F. In a large bowl, stir together the mozzarella cheese, yogurt, mayonnaise dressing, flour, dijon mustard, and 2 tablespoons of the parmesan cheese.
2. Stir in the spinach, roasted red peppers, and 2 tablespoons of green onions. Spread the cheese vegetable mixture evenly into a 1-quart ovenproof shallow dish or a 9-inch pie plate. Sprinkle with the remaining 2 tablespoons of the grated parmesan cheese.
3. Bake the uncovered dip for 15 to 20 minutes or until the edges are bubbly and the mixture is heated through. Sprinkle with the remaining 2 tablespoons of green onions.
Nutrition per Serving

Calories: 21
Protein: 1 g
Fat: 2 g
Carbohydrate: 1 g
Fiber: 0 g
It's important to pay attention to serving size. Everyone's dietary needs and restrictions are unique. Check with your diabetes care team about specific questions or concerns.
Adapted from AADE and Diabetic Living magazine.