Page Menu
Diabetic Recipe: Thai Peanut Grilled Chicken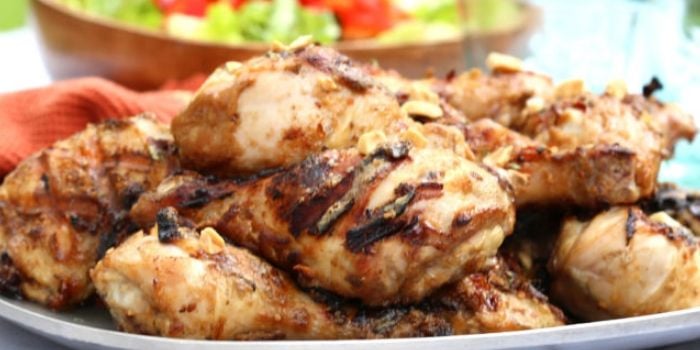 Makes 8 servings
Ingredients
2½ lbs chicken drumsticks and thighs
⅓ cup peanut butter
1 tbsp apple cider vinegar
1 tbsp low-sodium soy sauce
1 clove garlic, chopped
½ tsp red pepper flakes
½ tsp ground ginger
½ cup warm water
Salt and pepper to taste
Instructions
1. In a blender, combine water, peanut butter, vinegar, soy sauce, garlic, red pepper flakes and ginger. Blend until smooth.
2. Pat chicken dry and season with salt and pepper. Place in a single layer in a large pan and pour marinade on top. Coat chicken well and refrigerate for at least an hour.
3. Preheat grill to medium. Place chicken, skin-side down and cook for 8 to 10 minutes, until skin is crisp. Watch for flare ups and move chicken around grill if necessary. Brush with marinade from bottom of pan.
4. Flip chicken and brush with marinade and grill for another 5 to 10 minutes, until the internal temperature away from the bone reaches 165 degrees F.
5. Turn off grill and leave chicken on a little bit longer to stay crisp before serving.
Nutrition per Serving
Calories: 172
Protein: 41 g
Fat: 19 g
Carbohydrate: 3 g
Recipe adapted from A Sweet Life and American Diabetes Association
It's important to pay attention to serving size. Everyone's dietary needs and restrictions are unique. Check with your diabetes care team about specific questions or concerns.