Page Menu
UMass Diabetes Center of Excellence (DCOE) Facilities & Partnerships
Under the co-direction of David M. Harlan, MD and Dale Greiner, PhD, the UMass DCOE fosters both clinical & basic diabetes research and brings together diabetes clinicians and investigators from all over the world. The UMass Chan Medical School is consistently ranked by U.S. News & World Report as one of the leading medical schools in the nation for primary care education.
Ambulatory Care Center

Adult & pediatric diabetes care clinics are located on the second floor of this state-of-the-art building at the UMass Memorial Medical Center in Worcester. Clinical and translational research are also conducted in the ACC building.
Albert Sherman Center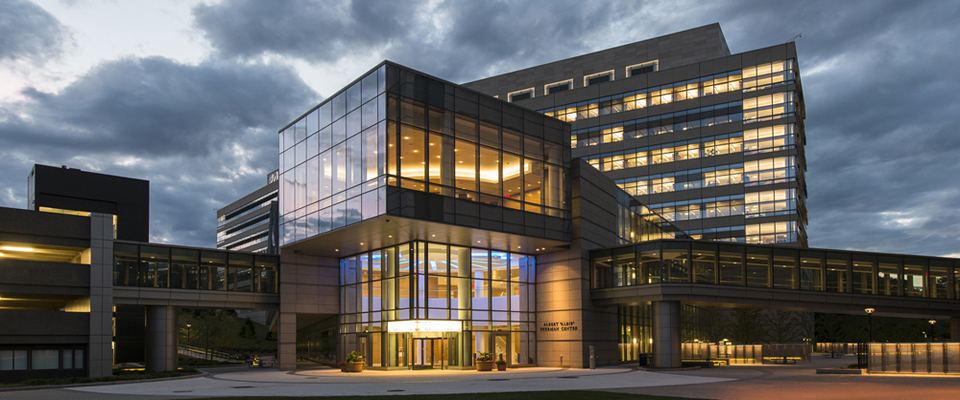 DCOE research labs are on the 7th floor of this world-class building equipped with ImmunoSpot analyzers, microplate & microarray readers, flow cytometers, NanoDrop microvolume spectrophotometers, luminometers, Eppendorf Realplex real-time PCR machines, thermocyclers, gel imagers, MACS cell separation system, cryogenic cell/tissue storage, Biorep 12-chamber islet perifusion system, cell culture facilities with microscopes dedicated for sterile retrieval of selected cells & dissection, Nikon Eclipse Ti-5 series microscopes for multiple fluorescent marker imaging, microscopes combined with NIS-Elements imaging software to support diverse image acquisition and analysis methods. Each scope is equipped with high-resolution cameras.
JDRF New England Research Collaborative
Seven of our UMass Chan DCOE research labs are collaborating with Harvard Stem Cell Institute, Joslin Diabetes Center and The Jackson Laboratory to transplant stem cell-derived (SC) islets into our unique humanized mouse models to recreate and study human type 1 diabetes like never before. This collaborative research group, led by UMass Chan DCOE co-director David Harlan, MD, is focused on understanding the autoimmune attack on insulin-producing pancreatic beta cells, and uses modern gene editing methods to engineer those cells to evade autoimmune attack. The goal is a cell replacement therapy that can be scaled for clinical trials and ultimately cure diabetes.
UMass Memorial Health
Our care team sees more than 8000 patients each year who receive the best diabetes treatments available. Personalized care is provided to help with all aspects of diabetes management.
Community Diabetes Partnership Program
The UMass Diabetes Center of Excellence partners with hospitals throughout Central Massachusetts to assist them in providing comprehensive care within their communities. Our specialists work with area clinicians to ensure that all people living with diabetes have access to local resources.
Leominster's HealthAlliance-Clinton Hospital: Endocrinologists Dr. Asem Ali, Dr. Prateek Shukla and Dr. Madona Azar, Nurse Practitioners Susan Kim, Ana Ronderos and Clare Foley
Health Alliance Fitchburg Family Practice: Endocrinologist Dr. Asem Ali
Heywood Hospital in Gardner: Nurse Practitioner Taylor Boudreau
Milford Regional Medical Center: Endocrinologist Dr. Samir Malkani
Tri-River Family Health Center in Uxbridge: Diabetes Educator Fernanda Costa, RN