Page Menu
Diabetic Recipe: Turkey and Wild Mushroom Hash Cakes
Ingredients
2 cups chopped cooked turkey breast (about 10 oz)
2 cups chopped shiitake mushroom caps (about 4 oz)
1 garlic clove, minced
½ cup shredded cheddar cheese
Cooking spray
2 cups mashed cooked baking potatoes
¾ cup Panko
⅓ cup thinly sliced green onions
1 ½ tablespoons finely chopped fresh thyme (optional)
1 tablespoon olive oil
Salt and pepper, to taste
Instructions
1. Heat a large nonstick skillet over medium-high heat and coat with cooking spray. Sauté mushrooms and garlic about 5 minutes or until tender, stirring frequently, then pour into a large bowl. Add turkey, potatoes, ¼ cup panko, cheese, onions, thyme, salt and pepper into a large bowl. Mix and then divide into 8 equal portions, shaping each into ½-inch-thick patties. Refrigerate for 10 minutes. Coat the patties in the remaining panko.
2. Heat 1 ½ tsp of oil in a large nonstick skillet over medium-high heat. Add 4 patties and cook for 2 minutes on each side. Repeat with the remaining oil and patties.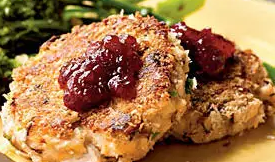 Recipe serves 4 (two patties per serving)
Nutrition per Serving
Calories: 263
Protein: 25 g
Total Fat: 10 g
Saturated Fat: 4 g
Carbohydrate: 18 g
Fiber: 2 g
It's important to pay attention to serving size. Everyone's dietary needs and restrictions are unique. Check with your diabetes care team about specific questions or concerns.