Page Menu
Diabetic Recipe: Spaghetti Squash and Turkey Meatballs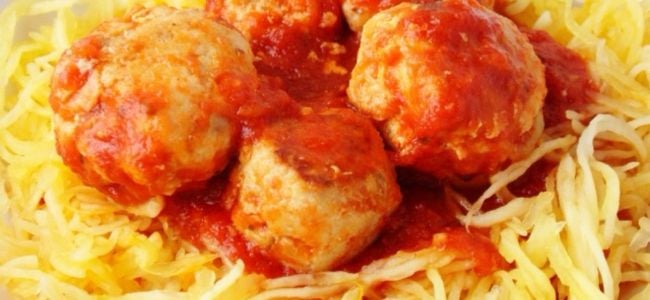 Makes 4 servings of ¼ cup spaghetti squash, ¼ cup sauce and 5 meatballs
Ingredients
1 pound of extra lean ground turkey
⅓ cup whole wheat bread crumbs
2 egg whites
14 oz. can of no-salt-added crushed tomatoes
¼ cup fat-free reduced-sodium chicken broth
¼ cup grated onion, minced onion or dried onion flakes
⅓ cup minced green onions
2½ tablespoons minced flat leaf parsley
1 Tablespoon each of minced fresh basil
1 teaspoon each of garlic powder, dried oregano and dried thyme
½ teaspoon red pepper flakes
Instructions
1. Mix bread crumbs, onion, garlic, parsley, red pepper and thyme in bowl.

2. Mix ground turkey with egg whites in large bowl and add seasoned crumbs.
3. Knead the mixture well, then cover and chill for 10 minutes. Preheat broiler.
4. Split squash in half and remove seeds. Place in a glass baking dish, cut side down. Add 4 Tablespoons of water. Microwave on High 10-12 minutes or until fork-tender. Let it cool.
5. Form 20 meatballs with the chilled turkey and put them in a pan.
6. Broil for 5 minutes, then turn the meatballs and cook for another 4 minutes.
7. Mix tomatoes & broth in 12-inch skillet and simmer over low heat. Add the meatballs, oregano and basil. Stir and cook for about 10 minutes or until hot.
8. Scrape the squash into strands onto a serving plate. Top it with the meatballs and sauce.
Nutrition per Serving
Calories: 225
Protein: 31 g
Fat: 3 g
Saturated Fat: 1 g
Carbohydrate: 20 g
Recipe adapted from Food Network, marthastewart.com, Diabetes Self-Management and eatingwell.com
It's important to pay attention to serving size. Everyone's dietary needs and restrictions are unique. Check with your diabetes care team about specific questions or concerns.