Page Menu
Diabetic Recipe: Pumpkin Turkey Chili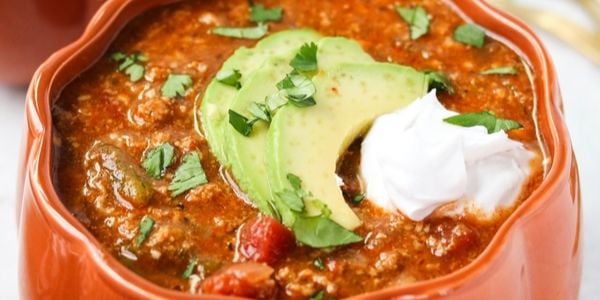 This slow cooker recipe makes approximately 8 servings
Ingredients
1 pound of uncooked ground turkey
One 15 oz can of pumpkin purée
One 15 oz can of dark red kidney beans, rinsed and drained
One 15 oz can of black beans, rinsed and drained
One 14.5 oz can fire-roasted diced tomatoes, undrained
1 cup of low-sodium vegetable broth
1 chopped medium onion
1 chopped green pepper
1 minced garlic clove
2 tablespoons chili powder
2 teaspoons ground cumin
½ teaspoon salt and ½ teaspoon ground black pepper

* Optional: sliced avocado and sour cream
Instructions
1. In a Crock Pot or slow cooker, combine all of the above ingredients, except for the avocado and sour cream. Cook on high temperature for 6 hours, and stir occasionally.
2. If desired, add sliced avocado and sour cream on top - not included in nutrition facts below.
Nutrition per Serving
Calories: 270
Protein: 23 g
Total Fat: 3 g
Carbohydrates: 29 g
Fiber: 15 g
Recipe submitted by a UMass Diabetes Center of Excellence employee.
It's important to pay attention to serving size. Everyone's dietary needs and restrictions are unique. Check with your diabetes care team about specific questions or concerns.