Page Menu
Diabetic Recipe: Grilled Cuban Pork Chops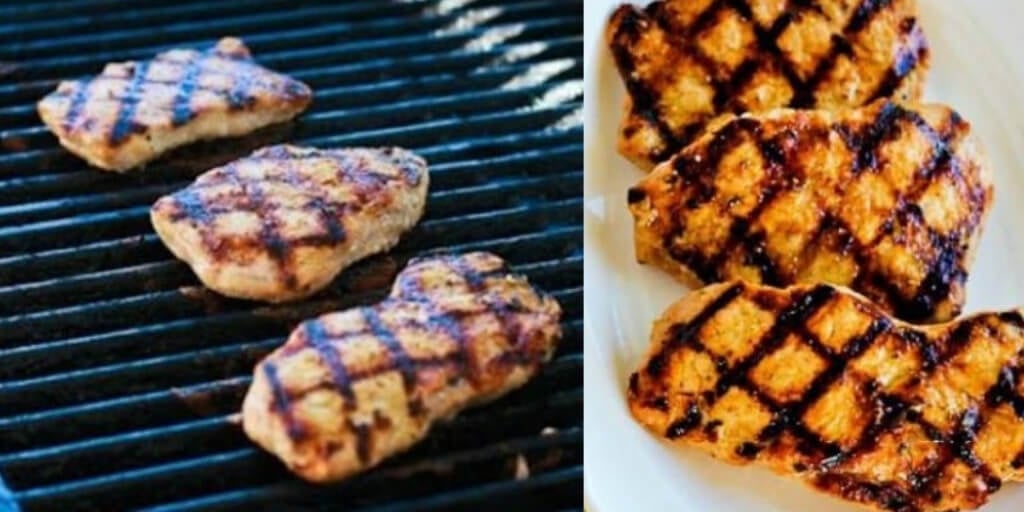 Makes 4 servings
Ingredients
4 thick boneless pork top loin chops
2 limes, cut into quarters (for squeezing on the pork chops at the table)
Marinade ingredients
⅓ cup fresh-squeezed orange juice
3 Tablespoons of fresh squeezed OR fresh-frozen lime juice
2 Tablespoons of vegetable oil
2 teaspoons of garlic puree OR crushed garlic
½ teaspoon dried oregano
½ teaspoon ground cumin
1 teaspoon minced fresh onion OR ½ teaspoon dried onion flakes)
Your favorite pork chop seasoning
1-2 bay leaves
Instructions
1. Trim visible fat from the pork chops and pound with a meat mallet until about ½ inch thick.
2. Mix all marinade ingredients. Place the pork chops and marinade in a Ziploc bag and marinate for at least 6 hours in refrigerator
3. When ready to cook, remove from marinade until reaching room temperature.
4. Use nonstick grill spray and preheat to medium-high heat.
5. Place pork chops on an angle and grill for 4-5 minutes, or until you see nice grill marks. Rotate going the opposite way and grill for another 4-5 minutes, creating criss-cross grill marks. Flip and cook another 4-5 minutes longer, or until the pork chops are firm. (If using a meat thermometer, should be at least 145° F).
6. Serve hot. If desired, squeeze fresh lime pieces on the meat.
Nutrition per Serving
Calories: 252
Protein: 32 g
Fat: 14 g
Carbohydrate: <2 g
It's important to pay attention to serving size. Everyone's dietary needs and restrictions are unique. Check with your diabetes care team about specific questions or concerns.
Recipe adapted from kalynskitchen.com