Page Menu
Diabetic Recipe: Swiss Skillet Steak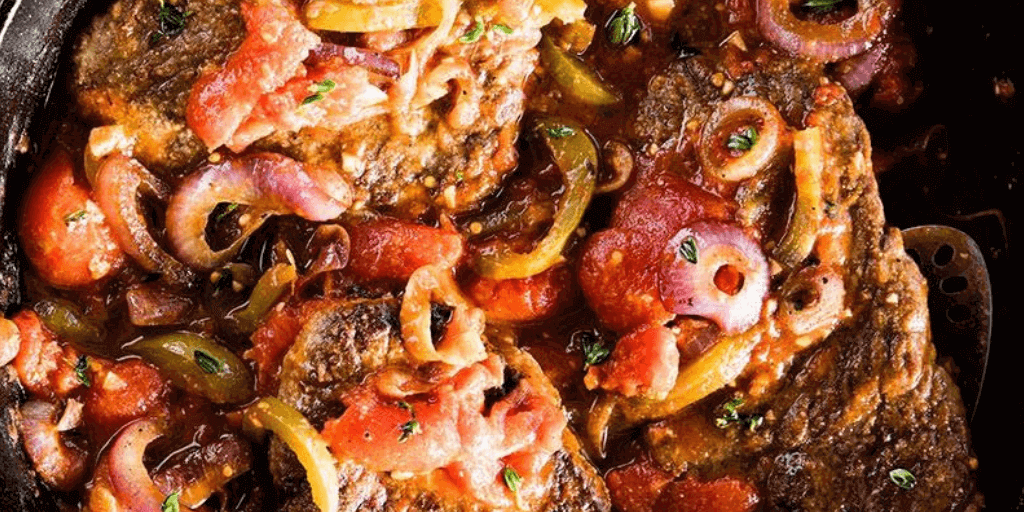 Makes 4 servings
Ingredients
4 cube steaks (of the same size so they cook evenly)

1 medium green bell pepper, thinly sliced

14 oz. can of whole tomatoes

1 large onion, cut into ½-inch-thick slices (don't separate)

1 minced garlic clove

½ teaspoon salt, divided

1 teaspoon chopped fresh thyme

¼ teaspoon ground pepper

1 tablespoon Worcestershire sauce

¼ cup of all-purpose flour

2 tablespoons extra-virgin olive oil, divided
Instructions
1. Preheat oven to 200 degrees F. Sprinkle ¼ teaspoon salt and pepper on the steaks. Place flour in a shallow dish and dredge the steaks in it.
2. Heat 1 tablespoon oil in a large skillet over medium-high heat. Reduce heat to medium and cook the steaks until browned (2 - 4 minutes per side). Transfer to a baking sheet and warm them in the oven.
3. Heat the remaining 1 tablespoon oil in the pan over medium-high heat. Add onion slices and cook, turning once and pressing with a spatula a few times, until browned on both sides (4 - 6 minutes). Stir in bell pepper, separating the onion rings as you stir, and cook, stirring occasionally, until the vegetables are tender (3 - 4 minutes). Stir in garlic, thyme and the remaining ¼ teaspoon salt; cook, stirring, for 15 seconds. Add tomatoes with their juice and Worcestershire. Cook, stirring, breaking up the tomatoes and scraping up any browned bits, until thickened (about 5 minutes). Serve the sauce over the steaks.
Nutrition Facts per Serving
Calories: 361
Protein: 39 g
Total Fat: 16 g
Carbohydrate: 16 g
Adapted from Eating Well Healthy Recipes
It's important to pay attention to serving size. Everyone's dietary needs and restrictions are unique. Check with your diabetes care team about specific questions or concerns.