Page Menu
Diabetic Recipe: Hungarian Beef Goulash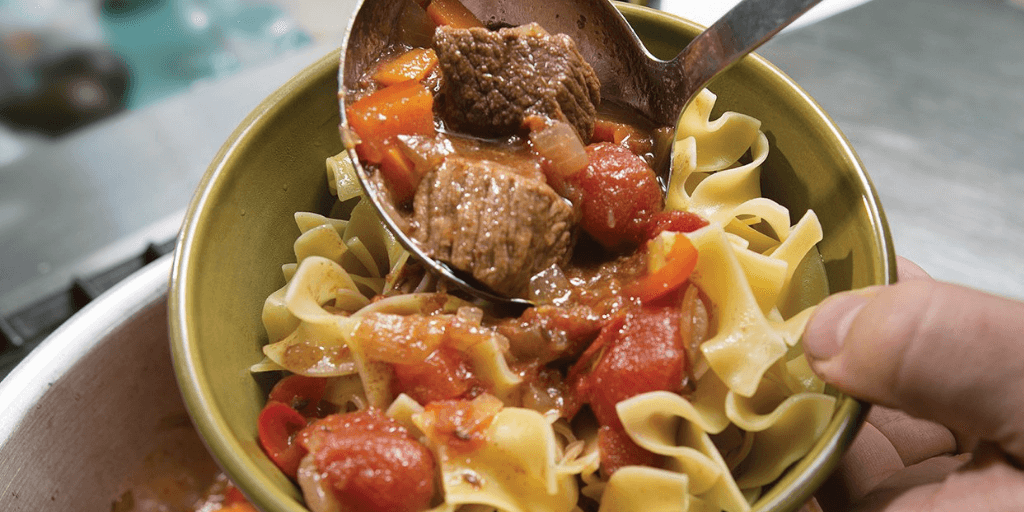 Serving size = 1 cup. Recipe makes 4 servings
Ingredients
2 pounds beef stew meat
1 large or 2 medium onions, chopped
1 large red bell pepper, chopped
2 large carrots, chopped

14 oz. reduced-sodium beef broth

14 oz. can of diced tomatoes

¼ teaspoon of salt

3 cloves garlic, minced
1-2 tablespoons of sweet or hot paprika
2 teaspoons caraway seeds (optional)
1 teaspoon of Worcestershire sauce
2 bay leaves
1 tablespoon of cornstarch mixed with 2 tablespoons water
Freshly ground pepper, to taste
Instructions
1. Place beef in a 4-quart or larger slow cooker. Crush caraway seeds with the bottom of a saucepan. Transfer to a small bowl and stir in paprika, salt and pepper. Sprinkle the beef with the spice mixture and toss to coat well. Top with onion, bell pepper and carrots.
2. In a medium saucepan, combine the diced tomatoes, broth, Worcestershire sauce and garlic; bring to a simmer. Pour over the beef and vegetables. Place bay leaves on top.
3. Cover and cook until the beef is very tender (4 to 4½ hours on high or 7 to 7½ hours on low). Discard the bay leaves; skim or blot any visible fat from the surface of the stew. Add the cornstarch mixture to the stew and cook on high (10 - 15 minutes) stirring a few times, until slightly thickened. Serve over noodles or mashed potatoes (not included in nutrition facts below)
Nutrition Facts per Serving
Calories: 168
Protein: 23 g
Total Fat: 5 g
Carbohydrate: 6 g
Sugars: 3 g
Fiber: 1 g
Recipe adapted from Eating Well magazine and American Diabetes Association's Everyday Recipes.
It's important to pay attention to serving size. Everyone's dietary needs and restrictions are unique. Check with your diabetes care team about specific questions or concerns.