Page Menu
Diabetic Recipe: Chicken Taco Casserole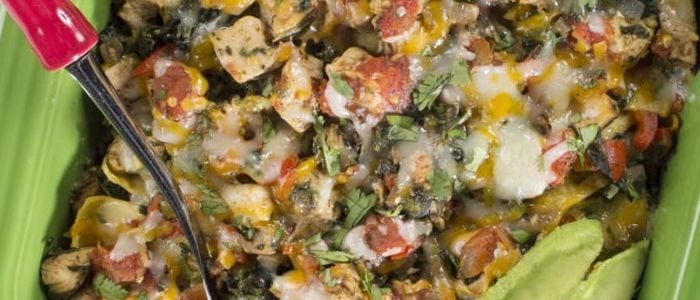 Makes 6 servings
Ingredients
2 boneless, skinless chicken breasts (about 12-ounces) cut into ½ inch cubes
4 (6-inch) corn tortillas, cut into 1-inch strips
1 red bell pepper, chopped
½ cup chopped onion
2 cloves garlic, minced
1 (10-ounce) package frozen chopped spinach, thawed, squeezed dry
1 teaspoon chili powder
1 teaspoon cumin
1½ cup fresh salsa, divided
¼ cup reduced-fat, shredded Mexican blend cheese
2 teaspoons canola oil
Instructions
1. Preheat oven to 350 degrees F. and coat a baking dish with cooking spray.
2. In a large skillet, heat oil over medium high heat. Add chicken, pepper, onion, and garlic and cook for 8-10 minutes, or until chicken is no longer pink. Stir in the spinach, chili powder, and cumin.
3. Evenly spread ½ cup of salsa on bottom of baking dish. Top with half the tortilla pieces and half the chicken mixture. Spoon ½ cup of salsa over the chicken. Repeat layers with tortilla pieces, chicken mixture, and salsa. Cover with foil.
4. Bake for 30 minutes, uncover, and sprinkle with cheese. Bake for another five minutes more, or until the cheese is melted.
Optional: Avocado slices and/or jalapeños may be added (not reflected in nutritional information below).
Nutrition per Serving
Calories: 188
Protein: 18 g
Fat: 6 g
Carbohydrate: 14 g
Fiber: 3 g
Recipe adapted from Mr. Food Test Kitchen's Chicken Taco Bake
It's important to pay attention to serving size. Everyone's dietary needs and restrictions are unique. Check with your diabetes care team about specific questions or concerns.