Page Menu
Diabetic Recipe: Spaghetti Squash Taco Boat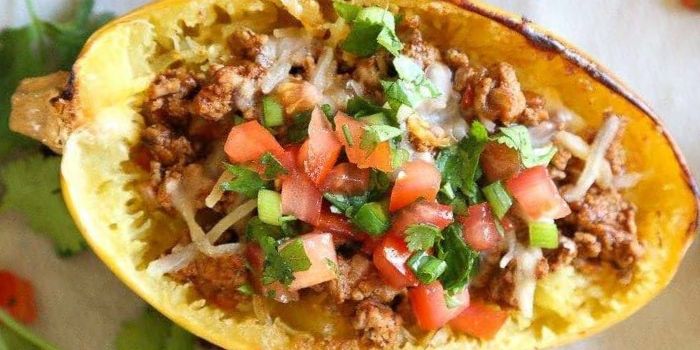 Makes 6 servings
Ingredients
1

lb. of

93% lean ground turkey

4

oz.

canned tomato sauce (will only use half the

can)

¾

cup

part-skim shredded Mexican cheese blend

½

small onion

,

minced

2

tablespoons

bell pepper

,

minced

1 teaspoon

garlic powder

1

teaspoon

cumin

½

teaspoon

chili powder

½

teaspoon

paprika

½

teaspoon

oregano

½

cup

water

Olive oil spray

Salt and pepper to taste
For the Pico De Gallo:
1

cup

chopped tomato

¼

cup

chopped scallion
¼

cup

chopped fresh cilantro

½

jalapeno

,

minced

2

tablespoons

fresh lime juice

¼ teaspoon

kosher salt
Instructions
1. Preheat oven to 400 degrees F and line a baking sheet with parchment paper. Cut the squash in half lengthwise and scrape out the seeds and yellow strands with a spoon. Spray the inside of the squash with olive oil and sprinkle lightly with salt and pepper. Place the squash facedown on the baking sheet and bake for 50 minutes or until the flesh easily pierces with a fork.
2. Brown the turkey in a large skillet. When no longer pink, add the dry seasoning and mix well. Add the onion, pepper, water and half can of tomato sauce. Cover and simmer on low for about 20 minutes.
3. Combine the pico de gallo ingredients in a medium bowl and put in the refrigerator until ready to eat.
4. When the squash is cool enough to handle, scrape the inside with a fork so the strands appear. Spoon
½
cup of meat mixture into each squash bowl. Top each with 2 tablespoons of cheese, put them into the oven for another five minutes, just long enough to melt the cheese.
5. Top with pico de gallo and serve while hot.
Nutrition per Serving
Calories: 218
Protein: 20 g
Fat: 10 g
Carbohydrate: 16 g
It's important to pay attention to serving size. Everyone's dietary needs and restrictions are unique. Check with your diabetes care team about specific questions or concerns.
Recipe adapted from skinnytaste.com