Page Menu
Diabetic Recipe: Boneless Baked Buffalo "Wings"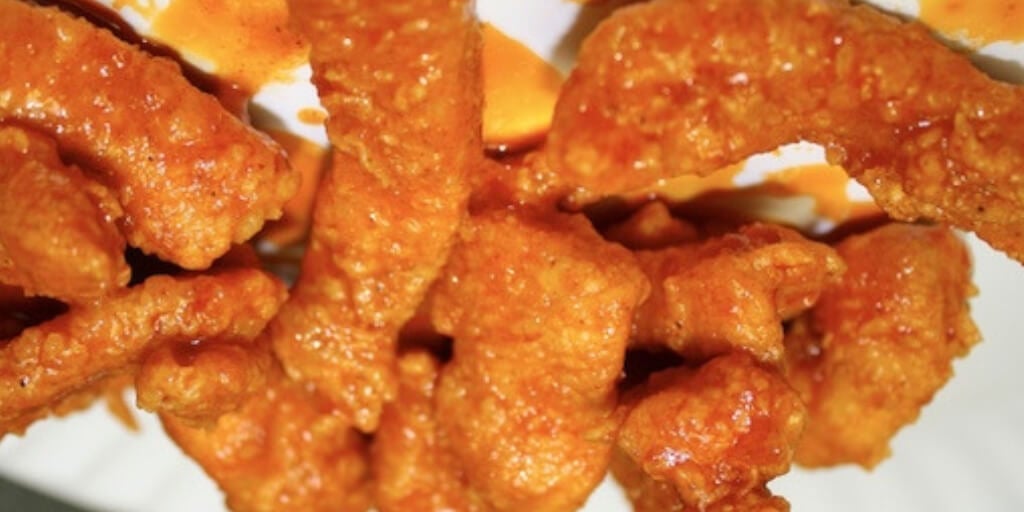 Makes 5 servings
Ingredients
1 lb. boneless, skinless chicken breast
¼ cup whole wheat flour
1 tablespoon olive oil
1 cup Frank's Red Hot, which contains zero carbs (or wing sauce of your choice)
Instructions
1. Preheat oven to 350 degrees F.
2. Cut chicken breast into 16 strips lengthwise.
3. Place flour in plastic bag. Add chicken and shake to coat.
4. Heat one tablespoon of olive oil in nonstick skillet on medium heat.
5. Remove chicken from flour, add to skillet and brown on both sides, about 2-3 minutes per side. Remove from skillet.
6. Place one cup of hot sauce in bowl, add browned chicken and toss to coat well. Remove chicken from sauce and place in baking dish.
7. Bake in oven on 350 degrees F for 30 minutes.
You may choose to dip in fat-free blue cheese or ranch dressing.
Serve with raw celery and carrot sticks.
Nutrition per Serving (without dressing)
Calories: 176
Protein: 21 g
Total Fat: 5 g
Saturated Fat: 1 g
Carbohydrate: 8 g
Fiber: 1 g
It's important to pay attention to serving size. Everyone's dietary needs and restrictions are unique. Check with your diabetes care team about specific questions or concerns.