Page Menu
Diabetic Recipe: Beef & Cabbage "Crack" Slaw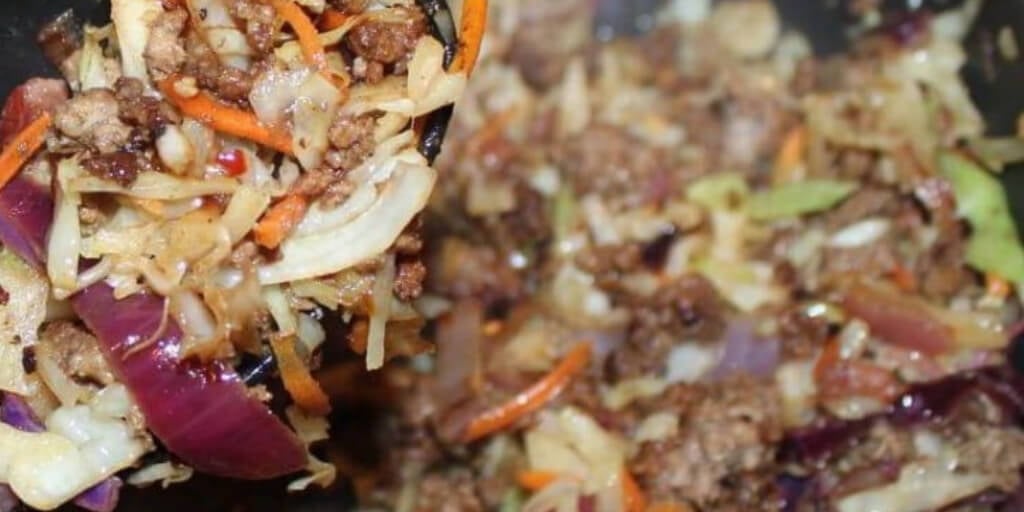 This quick to prepare meal got its name because it is delicious and addictive. You may substitute ground turkey, pork or soy meat instead of beef. The leaner the meat, the healthier the dish. Tastes great with 96 percent extra lean ground beef or extra lean ground turkey.
Makes 4 servings
Ingredients
1 pound ground beef
14 oz. coleslaw mix
2 garlic cloves, minced
½ teaspoon ginger paste, minced ginger or ginger ground
2 tablespoons sesame oil
2 tablespoons low sodium soy sauce
½ teaspoon s

riracha

sauce or red pepper flakes as desired
1 red or green onion, if desired
Salt and pepper, to taste
Instructions
1. In a large skillet or wok, brown the ground beef with garlic, onion, ginger, salt and pepper.
2. Remove beef mix from skillet.
3. Heat sesame oil in skillet. Add coleslaw mix and cook until brown or to your desired tenderness.
4. Add the soy sauce and sriracha sauce/red pepper flakes into the slaw mix, then add in the cooked ground beef and continue cooking/stirring until well heated.
5. If extra spice is desired, add additional sriracha sauce on top.
Nutrition per Serving
Calories: 270
Protein: 15 g
Total Fat: 19 g
Saturated Fat: 6 g
Carbohydrate: 7 g
Fiber: 2 g
It's important to pay attention to serving size. Everyone's dietary needs and restrictions are unique. Check with your diabetes care team about specific questions or concerns.