Page Menu
Diabetic Recipe: Cauliflower Baked Ziti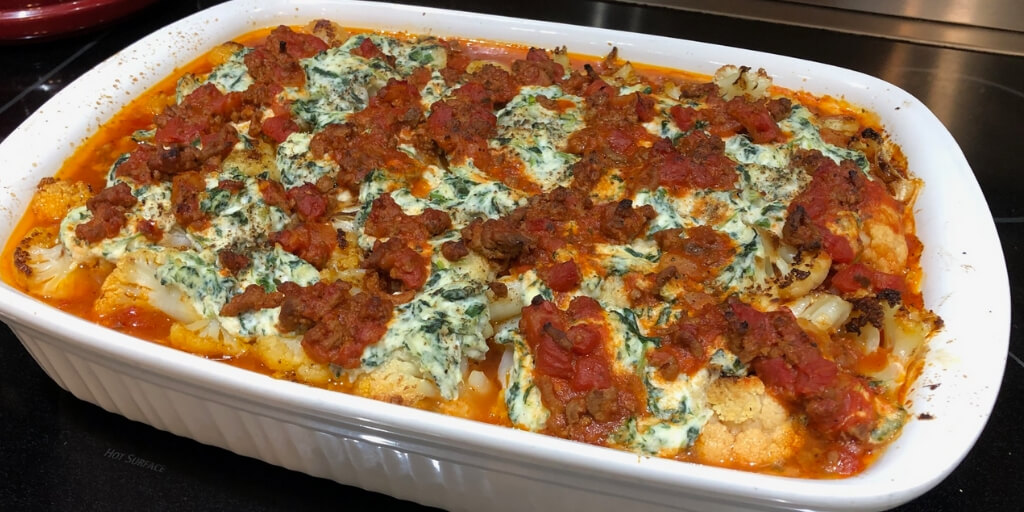 Makes 6 servings
Ingredients
1 lb of lean ground beef (or lean ground turkey)

1 large head of cauliflower, cut into florets, blanched, and drained well

1 tablespoon of

extra-virgin olive oil
2 tablespoons of tomato paste
1 teaspoon of dried oregano
2 tablespoons of thinly sliced basil (plus a little more for garnish)
2 (28 oz) can of crushed tomatoes
1½ cups of fresh ricotta
2 cups shredded mozzarella
½ cup of freshly grated parmesan
1 medium onion, chopped
2 minced garlic cloves
A pinch of red pepper flakes
Freshly ground black pepper
Kosher salt
Instructions
1. Preheat oven to 375 degrees F. Heat oil in a large saucepan over medium heat. Add onion and cook, stirring often, until onion is soft (about 5 minutes). Stir in the garlic and red pepper flakes, and cook for one minute. Add the ground beef, and season with salt and pepper. Cook until no longer pink. Drain the fat.
2. Return the saucepan over medium heat, and add the tomato paste and oregano. Cook for 2 more minutes, until slightly darkened. Add the crushed tomatoes and bring sauce to a simmer, reduce heat and cook, stirring occasionally, until slightly reduced, and the flavors have melded (10 to 15 minutes). Remove from heat and stir in basil.
3. In a large bowl, pour sauce over the cauliflower, and stir to combine. In a large baking dish, place half the cauliflower in an even layer. Cover with half the ricotta, and sprinkle with half the mozzarella and Parmesan. Add the rest of the cauliflower in an even layer on top, and top with remaining cheeses.
4. Bake until cheese is melted and golden (about 25 minutes). Garnish with basil before serving.
Nutrition Facts per Serving
Calories: 271
Protein: 21 g
Total Fat: 12 g
Carbohydrate: 22 g
It's important to pay attention to serving size. Everyone's dietary needs and restrictions are unique. Check with your diabetes care team about specific questions or concerns.
Adapted from Delish