Page Menu
Diabetic Recipe: Shredded Pork with Fruit Relish in the Slow Cooker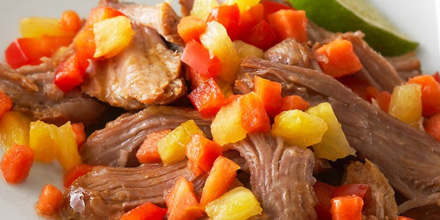 Makes 10 servings
Serving size = three ounces of cooked meat & three tablespoons of fruit relish
Have fun experimenting with any fresh fruit that you may prefer
Ingredients
3 lb boneless pork shoulder roast

4 cooking apples, cored and halved

½ cup mango nectar

1 cup finely chopped fresh pineapple

1 cup finely chopped papaya

¾ cup finely chopped red bell pepper

1 tablespoon lime juice

1 teaspoon canola oil

¼ teaspoon each of salt and

pepper
Instructions
1. Prepare the fruit relish by combining the pineapple, papaya, bell pepper, lime juice and oil in a bowl. Cover and chill for up to 12 hours.
2. Place the apples in the Crock-Pot or slow cooker. Trim fat from pork and season it with salt and pepper. Place the roast on top of the apples. Pour mango nectar over the meat. Cover and cook on low for 10-12 hours.
3. Remove the meat and discard the apples and cooking liquid. Shred the meat using two forks. Serve with lime wedges (optional) and the pre-made fruit relish.
Nutrition per Serving
Calories: 245
Protein: 32 g
Total Fat: 10 g
Saturated Fat: 3 g
Carbohydrate: 5 g
Fiber: 1 g
Adapted from EatingWell magazine, healthbenefitstimes.com and Diabetic Living Magazine
It's important to pay attention to serving size. Everyone's dietary needs and restrictions are unique. Check with your diabetes care team about specific questions or concerns.