Nine UMass DCOE Scientists Collaborating to Genetically Engineer & Test Human Insulin-Producing Cells as a Potential Therapeutic Cure for Type 1 Diabetes
In above video Drs. Harlan & Brehm describe the JDRF Center of Excellence in New England research collaborative to create a stem cell-derived beta cell replacement therapy with a goal of insulin independence for people with T1D
Fourteen New England scientists, including nine from the UMass Chan Diabetes Center of Excellence (DCOE), are working together to develop a cell replacement therapy that will evade the immune system and provide insulin independence for people living with type 1 diabetes (T1D). The multi-institutional research collaboration is funded by the JDRF, who appointed UMass Chan DCOE Co-Director David Harlan, MD, to lead the group as of June 2022.
Dr. Harlan heads up a clinical study with diabetes patients from UMass Memorial Health who voluntarily donate blood, from which stem cell-derived insulin-producing beta cells are created.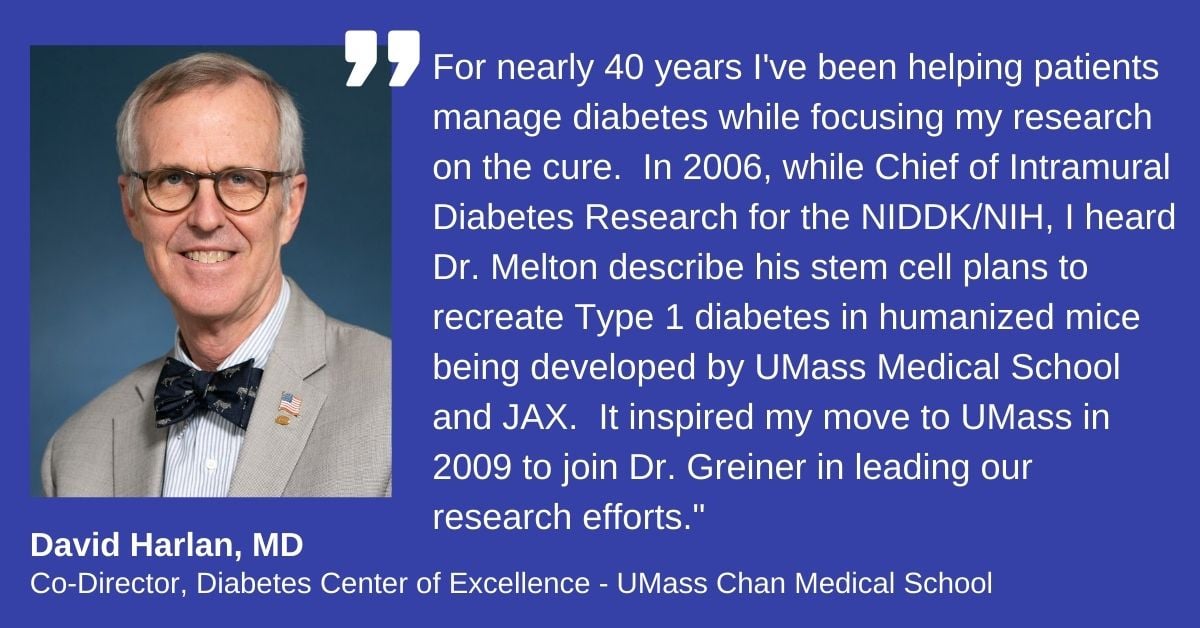 Twenty years ago, Douglas Melton, PhD, had the idea of using embryonic stem cells to develop functional pancreatic islets. His lab at the Harvard Stem Cell Institute successfully created beta-like cells, similar to those destroyed by the immune system of people with type 1 diabetes.
"For nearly 40 years, I've been helping patients manage diabetes, while focusing my research on the cure," said Dr. Harlan, the William and Doris Krupp Professor of Medicine and Co-Director of the UMass Chan Diabetes Center of Excellence. "In 2006, while Chief of Intramural Diabetes Research for the NIDDK/NIH, I heard Dr. Melton describe his stem cell plans, with the goal to recreate type 1 diabetes in the humanized mice being developed between UMass Chan Medical School and The Jackson Laboratories. It inspired my move to UMass Chan in 2009 to join Dr. Dale Greiner in co-directing our research efforts."
In October 2021, Vertex Pharmaceuticals released data about the first person to receive transplanted stem cell-derived pancreatic islets as a clinical trial. The results proved the manufactured cells work, however, they still require immunosuppressive therapy and its many associated health risks.
The New England researchers are genetically engineering those beta cells using CRISPR and other gene editing methods & tools to protect them from being attacked by immune cells in people with T1D. The modified cells are being tested in unique biological models of type 1 diabetes at the UMass Chan DCOE. "The holy grail of this research collaboration is a cell replacement therapy that eliminates the need for toxic immunosuppressant drugs," added Dr. Harlan
The UMass Chan DCOE laboratories of Dale Greiner, PhD and Michael Brehm, PhD, are transplanting those genetically modified stem cell-derived beta cells into their novel "humanized" mouse models of type 1 diabetes to determine if they're invisible to the immune system as intended. The Brehm and Greiner labs are studying the relationship between the donors' insulin producing cells and their immune cells in various situations and stages of the disease process. Various experiments are being conducted to observe how the cells interact and to determine where and how the rejection occurs.
"When Lenny [Dr. Shultz at The Jackson Laboratory] and I were developing the first 'humanized' mice in the 1980s, we only dreamed that one day they'd be optimized to where we have them now," said Dr. Greiner, the Eileen L. Berman and Stanley I. Berman Foundation Chair in Biomedical Research, Professor of Molecular Medicine and Co-Director of the UMass Chan Diabetes Center of Excellence. "Transplanting stem cell-derived pancreatic cells that have been genetically modified to become 'invisible' to the immune system, into our humanized mice, allows us to understand T1D like never before."
This cutting-edge research is more than just a job for Dr. Brehm, Associate Professor of Molecular Medicine and Co-Director of the Humanized Mouse Core Facility at UMass Chan Medical School. "As someone who lives with type 1 diabetes, I'm invested both personally and professionally to finding a cure," he said. "This is an incredible group of scientists from five New England institutions collaborating to bring us one step closer to a potential cure."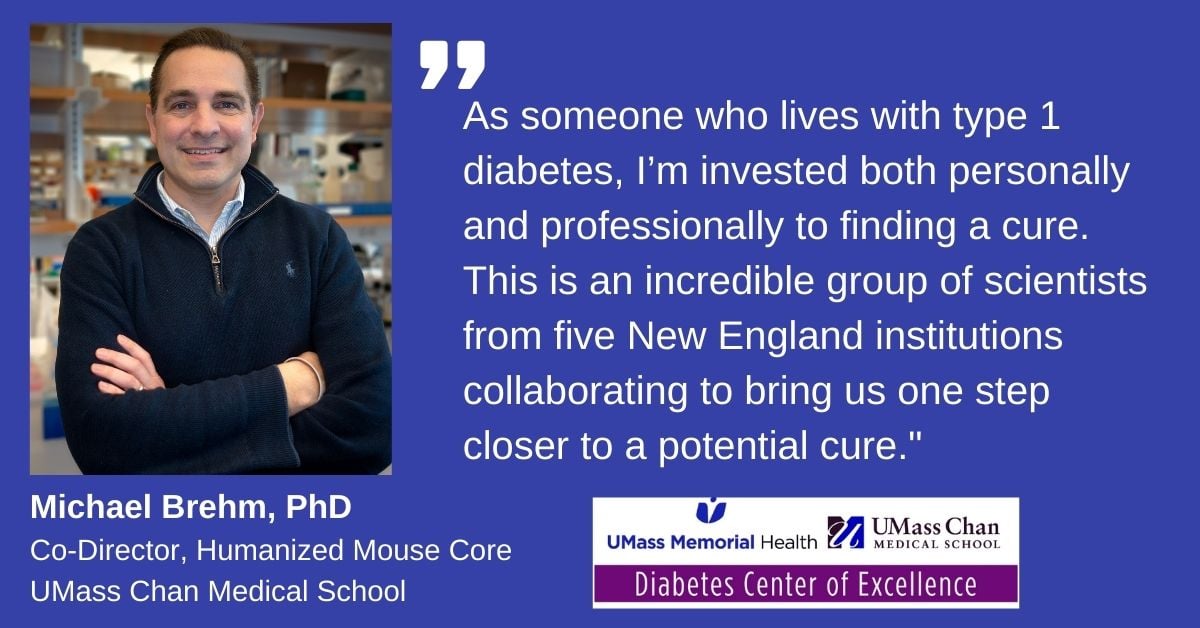 The Kent and Maehr labs in the UMass Chan DCOE are examining the cells, both before transplantation into the humanized mice, and again after being removed following the various experiments.
"Our group is analyzing how the immune system recognizes or doesn't recognize the modified stem cell-derived islets" said Sally Kent, PhD, The George F. and Sybil H. Fuller Term Chair in Diabetes, Associate Professor of Medicine. "Immune cells recovered from engrafted islets will be studied to determine how their function and characteristics have changed."
The Maehr lab is helping to develop new assays to examine the cells on both a functional level, but also looking at RNA transcripts and protein markers following interaction within the humanized models. "My lab combines immunology, stem cell biology, developmental biology and functional genomics," said René Maehr, PhD, Associate Professor of Molecular Medicine. "We're investigating how immunological tolerance is established and recreating that process using stem cells. We believe this could leveraged to patient-specific insights and eventually treatment strategies."
Drs. Kent and Maehr are collaborating with Jason Gaglia, MD, at Harvard Medical School. Dr. Gaglia began his career as a clinical research fellow on the islet transplant team in Dr. Harlan's lab at the National Institutes of Health in 2000. Together, the three scientists are determining how the phenotype and observable characteristics of the cells have changed. New assays are being utilized to examine the cells on a functional level, but also looking at RNA transcripts and protein markers following interaction within the humanized mice. The process must be measured and proven to be safe before proceeding towards clinical trials.
Jennifer Wang, MD, is a physician-scientist in the field of T1D and viral immunology at UMass Chan and UMass Memorial Health, who joined the collaboration in 2022. As an expert in infectious disease, her lab is exposing the stem cell-derived beta cells to viruses and infections they may face to study how they react.
Accalia Fu, PhD, has developed a co-culture system to test if glucose arginase 2 (Arg2) and glutathione (GSH) pathways protect stem cell-derived islets from immune attack. Her lab is investigating how these pathways shape the metabolic milieu of pancreatic islets and local immune cell activities. Her new system studies this in and relies on technologies including metabolomics, proteomics and transcriptomics.
The JDRF Center of Excellence in New England meets regularly via Zoom to update each other about experiments and progress. The team enjoys collaborative science. They're less concerned with individual credit but instead is focused on the ultimate goal.
The seed funder of this JDRF initiative is UMass Chan DCOE Visiting Advocacy Committee member John Cammett. "My own desire to find a cure is inspired by my mom living with T1D for almost 60 years. We have supported several of these researchers individually before. But the JDRF Center of Excellence in New England gives me tremendous optimism because it brings together the brightest minds, with a laser-sharp focus on developing cures."