Tyler Howard
Type 1 Diabetes Success Story
Tyler Howard had just turned five years old when he was diagnosed with type 1 diabetes (T1D). Today the 19-year-old high school graduate doesn't remember life before diabetes.
He credits his parents with providing a support system to help navigate day to day life with T1D. "There are ups and downs," he said. "Some days are better than others. Technology continues to improve and that helps a lot."
Sharing his blood sugar readings to his parents' phone provides peace of mind to them and also keeps Tyler accountable.
"When I first took full responsibility for my diabetes management, there were some fluctuations with my numbers," he said. Sometimes I'd forget to bolus and didn't always make the best decisions."
While his A1c did go up after the transition to independence, he's since learned to stay on top of his diabetes and make self-management a priority.
"Dr. [Benjamin] Nwosu has been great," Howard said. "He has realistic expectations and understands there's a learning curve during each stage of growing up with diabetes. However, he calls me out when I need it."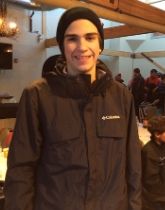 Tyler recently switched to a new insulin pump and continuous glucose monitor (CGM) and met with pediatric diabetes nurse Rachael Armenti, RN, in the UMass Memorial pediatric diabetes clinic. "My A1c dropped a full point when I started using the latest Tandem/Dexcom combo," he said. "The Basal IQ technology is catching my lows. I can't wait for the Control IQ to come out!"
An avid skateboarder and snowboarder, Tyler coached for the first time in February 2020 at the Riding on Insulin event at Wachusett Mountain. After participating for years, he attended coaching camp in Montana with 30 other young people living with diabetes.
"Riding on Insulin is a great event because most people there have T1D and we all understand each other," he said. "It's a group mentality and a good feeling to be surrounded by people who are all dealing with the same issues and concerns."
Tyler's advice to a newly diagnosed child is "it could always be worse." He admits that diabetes requires attention and responsibility all day every day, however, "there are lots of people in this world dealing with health issues much worse than diabetes. Don't let it stop you. Stay positive!"