Care Team Spotlight: Prateek Shukla, MD – Endocrinologist
Date Posted: Monday, September 27, 2021
Dr. Prateek Shukla is an endocrinologist focused on diabetes care with an interest in clinical research. In addition to the Diabetes Center of Excellence (DCOE) in Worcester, he's a member of our Community Diabetes Partnership Program. He provides UMass DCOE care at Fitchburg Family Practice and will soon have a clinic at a new multidisciplinary health care center in Leominster, scheduled to open in early 2022.
Born and raised in India, Dr. Shukla grew up in New Delhi where he attended Maulana Azad Medical College, one of the country's top ranked medical schools.
Healthcare in his blood
"The biggest factor that drove me to become a physician was seeing how much joy the servitude of medicine brought my parents," he said. This led him to aspire a career in medicine.
In addition to seeking excellent clinical training, he wanted to learn and develop novel healthcare delivery models, so he moved to New England for his postgraduate medical education. Following a three-year residency at UConn, Dr. Shukla had the honor of being selected to serve as chief resident at the VA Medical Center in Newington, CT. He completed his Endocrinology Fellowship at Beth Israel Deaconess Medical Center and Joslin Diabetes Center affiliated with Harvard Medical School.
"I became interested in endocrinology because it requires developing long-term relationships with patients and attention to detail," he said. His focus on diabetes care stems from its immense need. "Diabetes is a worldwide epidemic and so many people require the knowledge of a diabetes specialist," he added.
Practicing what he preaches
During his residency and fellowship training Dr. Shukla ironically found himself putting on weight and becoming unhealthy. "I wasn't being mindful of my own nutrition and wellbeing," he admitted. "I had always enjoyed running and playing soccer, so that wasn't like me."
He was diagnosed with prediabetes during his fellowship in Boston. "I looked at myself in the mirror and thought to myself, what kind of diabetes doctor can I be if I don't take care of myself?"
He completely transformed to a healthy lifestyle and uses his own story to inspire his patients to achieve their health goals. "Today, I have a healthy relationship with food," he said. "I was 237 pounds at my heaviest, but now I maintain around 165-170."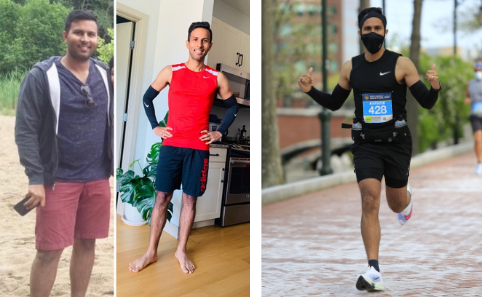 Dr. Shukla feels there is a lot of dogma about nutrition that doesn't necessarily ring true. In addition to healthy eating, he started running and playing soccer again. After completing his first marathon earlier this year in Providence, he'll be running in the New York City Marathon on November 7.
He deeply values the importance of a therapeutic alliance between a patient with type 1 diabetes and their endocrinologist. "When effective, this life-long partnership can significantly improve patients' experiences and quality of life," he said. He is interested in helping adolescent patients with type 1 diabetes transition from pediatric care to an adult provider.
Dr. Shukla appreciates the constantly improving diabetes technology and plans to become a physician business leader. He aspires to help develop a clinical platform of comprehensive diabetes care delivery with an integrated electronic health system.
"I'd like to collaborate with technology leaders and develop new and improved paradigms for providing care to people with diabetes."
About Dr. Shukla
Dr. Shukla and his wife, also a physician, are the proud parents of a 9-month-old infant. They enjoy travelling and have visited 31 U.S. states so far.
He is affectionately called "google" by his loved ones because of his voracious appetite for and impromptu regurgitation of seemingly random facts. Apart from attending several quiz/trivia competitions in his youth, he also helped the UConn team win the medical "Jeopardy" state championships two years in a row.
A connoisseur of specialty coffees from all over the world, he makes his own cold brews at home and does his own pour overs.
He couldn't possibly choose a favorite movie but loves watching them. "I'm a cinephile. I've seen over 1900 films."
Since moving to New England, he has become interested in the "art of craft brewing." "I believe some New England breweries have mastered IPAs and pale ales better than any German lager," he said with a smile. "I was not a beer drinker before moving to Connecticut for my residency."
Favorite activities include cycling in addition to playing the aforementioned soccer and running.