Care Team Spotlight: Nancy Sidhom - Diabetes Nurse Practitioner & Certified Diabetes Care and Education Specialist

Nancy Sidhom (left) with DCOE Wall of Honor patient Christine Croteau
Nancy Sidhom, MSN, ANP-BC, CDCES
Adult-Gerontology Nurse Practitioner (AGNP) Master's degree from Boston College
Bachelor of Science degree in Environmental Health from Rutgers University
Nancy has been a nurse practitioner (NP) at the UMass Diabetes Center of Excellence (DCOE) since 2013. Prior to specializing in diabetes, she worked as an NP in a variety of settings including subacute rehabilitation, internal medicine and outpatient endocrinology. Originally interested in careers in nursing, teaching, and social work, Nancy decided to become a nurse practitioner because she feels that a NP is "sort of a hybrid of all three." She is also a Certified Diabetes Educator.
- Favorite Television Show: Big Bang Theory
- Favorite Movie: It's a Wonderful Life
- Enjoys hiking and skiing at Wachusett Mountain
- Nancy is active in her church and works with their Youth Group
- Favorite Restaurant: Sweetgreen in Chestnut Hill
Why did you choose diabetes?
"It's very rewarding to see people take responsibility for their health, make lasting lifestyle style changes and alter the trajectory of their illness." Diabetes is a complex and difficult condition but there are a wide variety of therapies, providing patients with hope and path towards success. The path is surely arduous, and it's a privilege to partner with patients as they manage the day in and day out complexities of living a full life with a chronic disease. Nancy enjoys building trusting relationships with the people she treats and working through whatever challenges they may be facing. She has a passion for proper nutrition and exercise and strongly believes they are the foundation to proper diabetes management.
What makes the UMass Diabetes Center of Excellence special?
"Our team! I would entrust my family's care to any one of my fellow UMass DCOE providers. We all strive to do whatever is best for the patient, despite the obstacles. That is a top down approach by which Director David M. Harlan, MD, leads by example." Nancy loves how the endocrinologists, nurse practitioners and diabetes educators work as a team. A trusting work relationship is very important to her. "We communicate about our patients and work together to create a successful treatment plan for each of them."
The UMass DCOE treats a very diverse population of people. Nancy is impressed and proud that qualified medical interpreters are available in person, over the phone and via remote video interpretation (FaceTime, etc.) to ensure support for over 100 languages spoken by our patient population. Interpreters are available free of charge 24 hours a day, seven days a week to UMass Memorial patients and families who want to receive health information in a language other than English, including American Sign Language interpreters for patients who are deaf or hard of hearing. Additionally, our interpreters can help respond to calls from patients for both medical and nonmedical issues (e.g., medication refills, urgent visits, billing, financial services, appointment scheduling, etc.). For more information, call the Interpreter Services Department at 774-441-6793 (TTY 711).
Challenges facing diabetes health care providers
One of the challenges Nancy says patients often deal with, is the financial constraint of living with diabetes. "When people tell you that they cannot afford medication, insulin, test strips and other diabetes supplies, and office visit co-pays, that is a major problem," said Nancy. "Food security is another concern," referring to the ability to afford healthy food.
Making a difference in the lives of people living with diabetes
Nancy has helped many patients with a variety of challenges. One that came to mind was a woman in her early 20's who was diagnosed with type 1 diabetes at age 13, while living down south. She was taking large dosages of insulin a day and was still unable to keep her blood sugars in the target range. After further examination, Nancy realized that she had been misdiagnosed years ago, and correctly diagnosed the woman with type 2 diabetes. They worked together to develop a weight loss plan, and eventually decided that the proper course of action would be bariatric weight loss surgery. The woman lost 100 lbs. and now successfully manages her diabetes with nutrition, exercise, and simply one pill a day!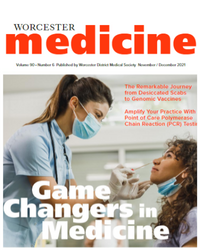 No More Finger Sticks: Continuous Glucose Monitors

Worcester Medicine - November/December 2021
In this article, Nancy describes the benefits of continuous glucose monitors (CGM) and how the constantly improving technology is helping people living with diabetes like never before.