The Messina Lab is Developing Blood Stem Cell Approaches to Impaired Diabetic Wound Healing
The laboratory of Louis M. Messina, MD, is investigating the molecular and cellular mechanisms by which type 2 diabetes (T2D) impairs wound healing, which could lead to potential therapies. Their work has shown that T2D impairs wound healing by causing an injury to blood stem cells that reduces both the number and the function of wound macrophages, a white blood cell that's the most important cell in the body's response to a diabetic ulcer. Currently, Messina's lab is exploring a blood stem cell-based therapeutic approach to reverse what is one of the most feared complications of diabetes.
Diabetic neuropathy, nerve damage and poor circulation
People living with diabetes often develop nerve damage and poor circulation, which make them susceptible to develop foot ulcers that can take months to heal and often do not heal at all. Paradoxically, the impaired wound healing is primarily caused by the elevated insulin levels common to people with diabetes. Neuropathy and reduced limb blood flow also contribute to this impaired wound healing.
"A major fear of anyone living with diabetes is limb loss," said Dr. Louis M. Messina, professor and Vice Chair, Department of Surgery, UMass Chan Medical School, Johnnie Ray Cox Term Chair in Biomedical Research. People with T2D have a 25-fold higher risk of limb loss than non-diabetics due in large part to their impaired wound healing.
Diabetes wound healing research in the Messina lab
Currently, Jinglian Yan, PhD, a junior faculty in Messina's lab at the UMass Diabetes Center of Excellence, is identifying the cellular and molecular mechanisms underlying chronic non-healing wounds in elderly people with T2D. "Of the one million people who undergo leg amputations each year worldwide, about 75% of them are elderly patients with T2D," said Dr. Yan. Most research on wound healing is currently being done on young mice, as a result, there is especially limited knowledge of the mechanisms that cause chronic non-healing wounds in the elderly population. By utilizing aged T2D mice, she's investigating the mechanisms which impair wound healing in older people living with T2D. "Since elderly patients have a greater risk, I want to know how aging and diabetes together impair wound healing so that we can develop more effective therapies". Despite its prevalence, there have been no new high impact treatments to improve wound healing in diabetics in more than 20 years.
Previous studies suggested that impaired wound healing in people living with T2D was due to the dysfunction of macrophages, a white blood cell that's the most important cell in the body's response to a diabetic ulcer. There are two types of macrophages: M1 (pro-inflammatory macrophages) and M2 (pro-angiogenic macrophages).
Dr. Yan wanted to identify the mechanism(s) by which T2D causes macrophage dysfunction as well as a shift in the M1/M2 balance, thereby impairing wound healing. Since macrophages originate from bone marrow blood stem cells, she questioned whether T2D impairs blood stem cell production of monocytes that become macrophages when they enter the wound.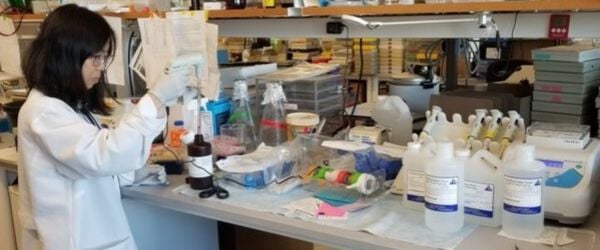 Promising stem cell results
Yan's research found that impaired wound healing of young T2D mice is due to high insulin levels that cause a free radical injury to blood stem cells. As a result, the blood stem cells reduce their production of monocytes and the derivative macrophages and skews the latter towards the M1 proinflammatory macrophage. Dr. Yan has shown that the free radical injury of blood stem cells that is caused by high insulin levels is due to an enzyme called Nox-2. By reversing the Nox-2 dependent injury to blood stem cells, the rate of wound healing is very close to normal. Exciting preliminary studies show that blood stem cells in humans with T2D have the exact same increase in Nox-2 as found in the mouse studies. Current studies are aimed at developing a cell therapy to reverse impaired wound healing caused by T2D.
Diabetes impairs wound healing by Dnmt1-dependent dysregulation of hematopoietic stem cells differentiation towards macrophages
(Nature Communications, 2018, 9(1): 33).
Manipulation of blood stem cells
Dr. Yan has since performed similar tests with both elderly and young mice with T2D. She found that wounds in the elderly T2D mice did not heal, which is the most common clinical presentation.
Future research in Messina's lab will focus on the determination of the combined effects of T2D and aging on wound healing at the molecular level. Manipulation of blood stem cells could one day be a viable method to develop therapies for delayed wound healing and chronic non-healing wounds in people with T2D.
Developing therapies for those with type 2 diabetes
This novel discovery by Messina's lab, of a new cellular mechanism that affects wound healing in diabetic mice, indicates that abnormal immune responses begin at the level of blood stem cells found in the bone marrow. A metabolic disorder induces a free radical injury of blood stem cells, which predetermines the number and function of macrophages in the wounds. This finding creates new opportunities to develop a stem cell-based therapy to potentially reverse impaired wound healing in patients with T2D.
With rising rates of obesity and diabetes and an aging population, patients with chronic non-healing wounds are growing rapidly. This combination of aging and T2D makes the treatment of cutaneous wounds complex and difficult, resulting in substantial disability, hospitalization, and even death. Progress towards a deeper understanding of the mechanisms by which aging and T2D impair wound healing is essential to the development of effective therapies and is a national health care priority.