Julie Kozlowski
Type 1 Diabetes Success Story
Julie Kozlowski was diagnosed with type 1 diabetes (T1D) at 3 years old, shortly after her family returned from a Walt Disney World vacation. "My mother had to carry me pretty much the entire time because I was too tired and thirsty to walk," she said. "We didn't realize it at the time, but those were my diabetes symptoms starting."
The framed photo she's holding is the last one taken prior to being diagnosed. As you can see, she still has the hat and is also proudly displaying her insulin pump, and wearing her 25-year medal from Lilly Diabetes.
"My diabirthday is December 14th. Each year my family and I go out and toast to life!" In 2019 Julie celebrated her 25th diaversary with a photo shoot.
"Everything happens for a reason" is Julie's favorite quote about type 1 diabetes. "I must use this armful of supplies everyday to stay alive!"
She manages her T1D with a Dexcom continuous glucose monitor (CGM) and OmniPod insulin pump, and her blood sugars remain in a healthy target range. She's extremely grateful to her "diabetes care team" of Dr. David Harlan, Dr. Michael Thompson, and our diabetes educators.
It wasn't always so easy. The year after diagnosis she experienced a seizure from low blood sugars, resulting in temporary paralysis. "It happened in 1993 but I think about it every day," Julie said. "It makes me understand the power of the disease and realize how close I came to losing everything, and how truly lucky I am to be alive."
That incident eventually led to Julie becoming vocal about her diabetes and she used it as a constant motivator to do her best to manage it. "My blood sugars weren't great when I was a kid, but I think a lot of that had to do with the lack of technology. "Dr. Thompson has been a life changer for me," she said. "His words are so encouraging. Other than my parents, I've never had somebody cheering me on until I met him in adult endocrinology. He always supports me and makes me want to do my best. I know he has my back!"
"Hope" is Julie's favorite word regarding diabetes. In the above photo, she's wearing a medic alert bracelet. "I wore that thing religiously my entire childhood. In fact, I never took it off until middle school. It became so worn that the clasp eventually broke and the bracelet fell off."
Julie's parents were extremely hands-on and "did everything for me until middle school." She attended diabetes camp for the first time at age 8. "My time spent at the Clara Barton camp in Oxford, Mass. were some of my best years," she said with a big smile. "It was the first time I felt normal because everyone was dealing with the same issues I was."
Julie graduated from a camper to counselor and made lifelong friends. "Six or seven of us still keep in touch on a group chat and we get together once a year."
She injected insulin with a needle & vial until college. She tried using an insulin pump a couple of times, once in high school and again as a college freshman, but as a student athlete (softball) "it didn't fit my lifestyle."
When she transitioned from pediatric care to adult care at the UMass Memorial Diabetes Center of Excellence, Julie succeeded in reaching and maintaining her blood glucose goals.
She's also become a student of diabetes and has learned as much about the disease as possible. Studying the history of diabetes research resulted in two "diabetes trips" to Toronto, where Banting & Best first isolated insulin in 1921.
"The display at the old Toronto hospital is incredible. They have letters written to and from Banting, and the original vials of insulin. It was such a humbling sight to see!"
Adjacent to The Banting House Museum located in nearby London, Ontario, is The Flame of Hope. It's an eternal flame that honors Sir Frederick Banting's discovery of insulin, as well as all those who have been affected by diabetes. Inscribed with the words "Insulin is Not a Cure," it serves as a reminder that insulin manages diabetes but does not cure it.
Prior to Julie's first trip in 2018, Dr. Harlan gave her a red rubber bracelet (below) with those exact words on it. He wears the same bracelet every day on his wrist. The eternal flame will only be extinguished when a cure for diabetes is developed. The team responsible for finding the cure will be flown in to do so.
Dr. Harlan, in addition to caring for people as an endocrinologist specializing in diabetes, is also a leading type 1 diabetes researcher, who is well respected throughout the world. His goal is to be a member of the team that cures diabetes – and to personally extinguish that flame!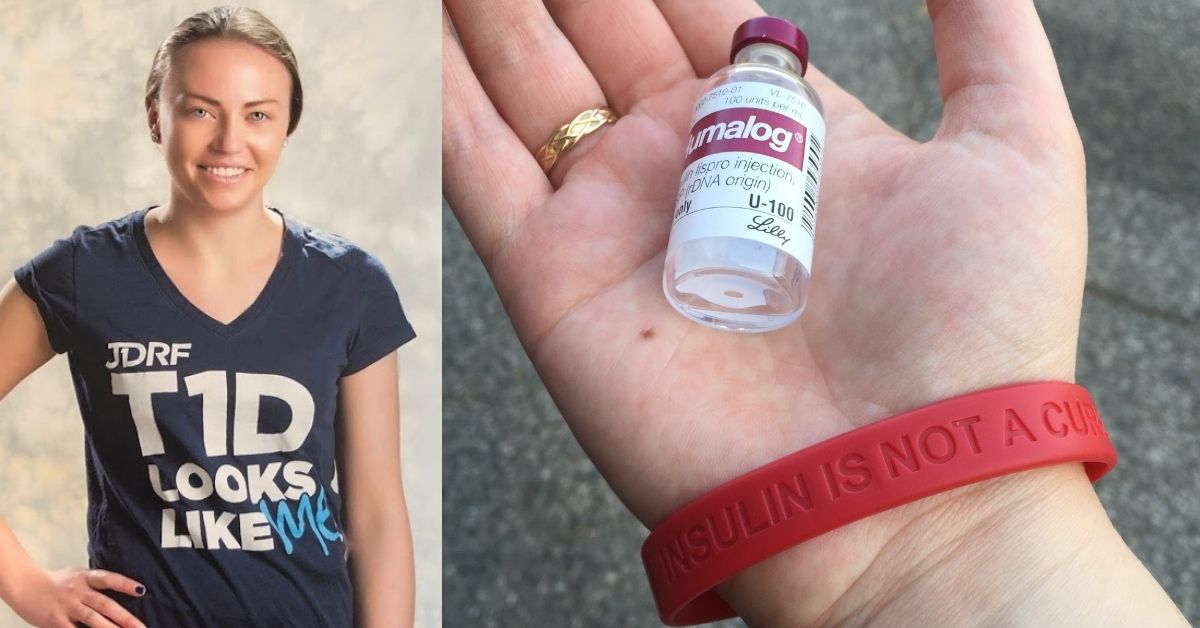 While diabetes continues to be an unpredictable disease for Julie and the millions of others who live with it, she appreciates her UMass Memorial Diabetes Center of Excellence care team and how they've helped her over the years. The diabetes educators helped her transition to using an insulin pump and CGM, and Dr. Thompson works with her to keep her blood sugars in a healthy range.
"He [Dr. Thompson] understands that there's no textbook treatment, but instead, treats my individual needs," she said. He reminds me that I'm the most important part of my own care team."
In the following video, Julie talks about her experiences with high and low blood sugars