Affordable Insulin Now Act Includes a Monthly Out-Of-Pocket Patient Maximum of $35 for Insulin Prescriptions
UMass Diabetes Center of Excellence Reaction to the Newly Proposed Legislation
The average list price of insulin nearly tripled between 2002 and 2013. According to the Health Care Costs Institute, insulin prices nearly doubled between 2012 and 2016. During that time, they say the average price for a 40-day supply increased from $344 to $666.
Legislation to limit the cost of insulin to $35 a month for most Americans who depend on it, passed in the House on March 31, 2022. The insulin bill, which would take effect in 2023, represents just one provision of a much broader prescription drug package in President Biden's social and climate legislation.
The bill includes a $35 per month insulin co-pay cap for people with Medicare, employer-sponsored coverage, or insurance bought on the Affordable Care Act marketplace. If passed, the legislation would also authorize Medicare to negotiate prices for a range of drugs, including insulin. It would penalize drugmakers for raising prices faster than inflation and overhaul the Medicare prescription drug benefit to limit out-of-pocket costs for enrollees. The bill would not help the uninsured.
"The price has been increasing by 15 to 17% per year since 2012," according to Senate Majority Leader Chuck Schumer, who will call for a Senate vote in March. He said the Affordable Insulin Now Act is being met with bipartisan support and he anticipates it will pass within the next several months.
The Centers for Disease Control and Prevention (CDC) estimates that if current trends continue, one in three Americans will have diabetes by 2050. Diabetes can lead to other serious health complications including kidney failure, heart disease and loss of vision. Overall, one in every ten health care dollars is spent on diabetes and its complications, including one in every three Medicare dollars.
"Millions of Americans live with diabetes and millions more are at risk of developing this life-threatening disease," said New Hampshire Senator Jeanne Shaheen. "They shouldn't break the bank affording the medication they need."
Under the Affordable Insulin Now Act, private group or individual plans would be required to cover one of each insulin dosage form (vial or pen) and insulin type (rapid-acting, short-acting, intermediate-acting, and long-acting) for no more than $35 a month. Medicare Part D plans, both stand-alone drug plans and Medicare Advantage drug plans, would be required to charge no more than $35 for whichever insulin products they cover in 2023 and 2024, and for all insulin products beginning in 2025.
UMass Diabetes Center of Excellence Reaction
"I'm glad this issue has finally come to the forefront and elected officials in Washington are trying to help," said Samir Malkani, MD, Clinical Chief of the Division of Endocrinology & Diabetes at UMass Memorial Health and UMass Chan Medical School. "The substantial increase in the retail cost of insulin is disturbing because of the consequences it has on the health of those for whom insulin is a life sustaining medication."
Dr. Malkani cares for people with diabetes at the UMass Memorial Diabetes Center of Excellence (DCOE) in Worcester as well as Milford Regional Medical Center. "Equally disturbing is the lack of transparency on the part of insulin manufacturers in providing justification for the price increases. There have been no substantial improvements in many of the insulin formulations which have seen annual price increases for nearly 20 years," added Dr. Malkani.
According to Cheryl Barry, RN, MS, CDCES, Manager of the Diabetes Education Program at the UMass DCOE, "For so many people with diabetes, insulin is not an option but is essential to live. It's abhorrent that people throughout the United States must choose between taking their insulin or paying for other necessities and thus increasing their risk of the long-term complications of diabetes."
Barry and her team of diabetes educators constantly hear patients complain that insulin is too expensive. Many have admitted that sometimes they skip doses to make it last longer. "People tell us that they used to pay $20 or $30 for insulin and today their co-pays are in the hundreds of dollars each month," she said. "It's awful to hear that some people have to make a decision between paying for their necessary insulin or paying rent. If they continue to miss insulin doses, it can cause severe health consequences down the road."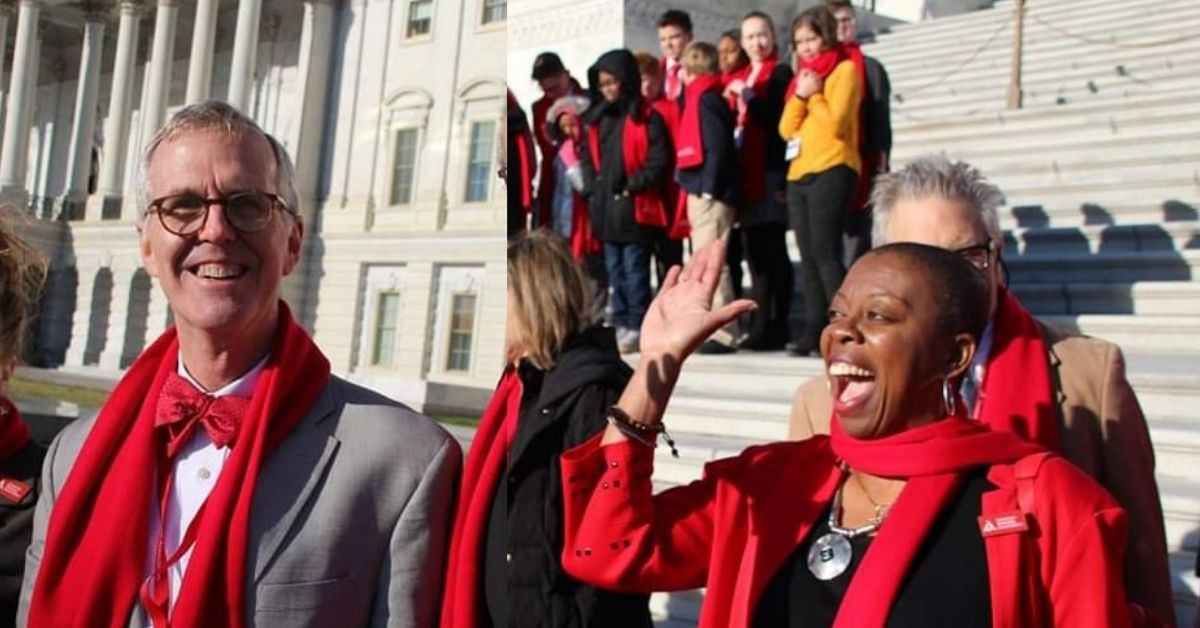 Dr. David Harlan, co-director of the UMass Diabetes Center of Excellence Director joined American Diabetes Association CEO Tracey Brown on the steps of the United States Capitol Building in Washington DC advocating for federal funding to support diabetes research and access to affordable healthcare
Related Articles
Dr. David Harlan Celebrates 100 Years Since the Initial Purification & Use of Insulin in Diabetes Therapy with "The Noble and Often Nobel Role of Insulin-Related Research"
FDA Approves Interchangeable Biosimilar Insulin to Potentially Reduce Cost for People to Treat Diabetes
UMass Diabetes Center of Excellence Researchers Recognized in Cell Metabolism's 100 Years of Insulin Issue
David Harlan Interviews Nobel Laureate Wally Gilbert About His Pioneering Work in DNA Sequencing That Led to the Creation of the First Genetically Engineered Human Insulin