David Blodgett, PhD
Date Posted: Saturday, July 01, 2017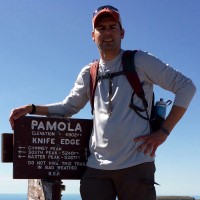 David is unique among the DCOE patients. He has a PhD in Biomedical Sciences, is a faculty member at Babson College and a research scientist at the UMass Medical School. His journey began as a child diagnosed with diabetes at the age of 3 and today he's a happy and healthy adult who focuses his scientific career on finding the cure for diabetes.
"I don't remember not having it", David said about diabetes. He perceives it as a disease that can be managed and controlled if people "stay on top of it." He remembers the old diabetes technology of test strips and early meters. That's why David is a big fan of new diabetes technology, especially pumps and CGMs, which "make it easier to predict what is going to happen and to know what is happening."
David has worn a pump since middle school and progressively took more control of his diabetes, his eating habits and especially his athletic endeavors. He never felt deprived of sports, travel and fun activities as a child and he certainly doesn't feel that way today.
Dr. Blodgett focuses his research energy on studying pancreatic beta cells and what makes them different. His work is instrumental to the break-through scientific discoveries at the DCOE.