Page Menu
Mulligatawny Soup with Chicken
Prep Time: 15 minutes Cook Time: 30-35 minutes Makes: 4-6 servings
Ingredients:
1 onion, chopped
3 cloves garlic, minced
½-1 jalapeno pepper, minced, seeds removed (optional, as tolerated)
1 tablespoon fresh grated ginger
1 tablespoon curry powder
1-2 carrots, sliced
1 small, sweet potato, peeled and chopped
1 large tomato, chopped
½ cup red lentils, rinsed and drained
4 boneless skinless chicken thighs (optional)
4 cups broth or water
¼ cup parsley
½ cup cilantro
½ cup coconut milk
Directions:
Sauté onions in a large stockpot in 1-2 tablespoons oil (or water) until soft. Add garlic, pepper, ginger, and curry. Stir for 30 seconds or until fragrant.
Add carrot, sweet potato, and tomato. Cook for 1-2 minutes. Add lentils, broth, and chicken thighs. Cover. Bring to a boil, reduce heat and simmer for 30-35 minutes or until chicken is cooked through.
Stir in parsley, cilantro, and coconut milk. Salt and pepper to taste. Remove from heat and serve.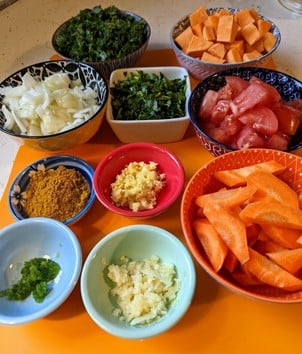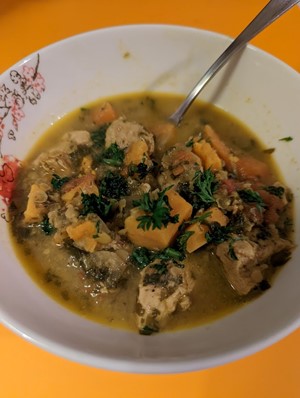 IBD-AID Phase 3 (as tolerated).
Recipe & Image Credit: Rene Maserati